Uhuru, Raila meeting rattles friend and foe in equal measure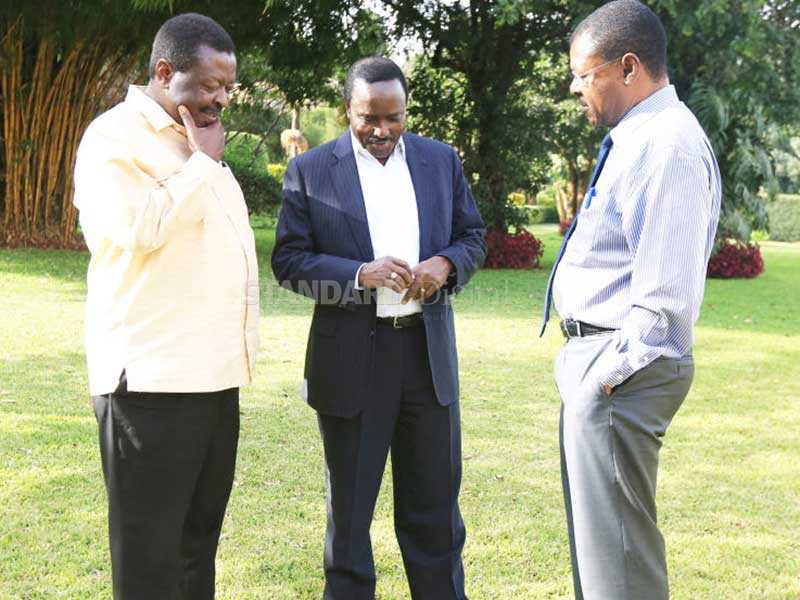 President Uhuru Kenyatta and Opposition chief Raila Odinga defied their erstwhile lieutenants to hold a two-hour closed-door meeting at Harambee House, Nairobi.
After months of political grandstanding, the President and the NASA leader agreed to address tribalism, devolution, divisive elections, security and corruption that have for long threatened to tear apart the nation's fabric.
They resolved to form a joint secretariat to work on a programme with the sole purpose of uniting Kenyans.
Uhuru and Raila walked out of the private meeting at 12.30pm and took 17 minutes to address the nation before shaking hands, evoking memories of 2008 when Raila stood on the same steps of Harambee House with President Kibaki after they struck a deal to form a government of national unity following post-election violence after the disputed 2007 General Election.
Raila, who was the first to address the nation, read a written speech saying they had agreed to bury their long-standing political differences for the sake of the country. In the deal, the two leaders agreed to roll out a programme that will implement their shared objectives.
A joint secretariat led by Ambassador Martin Kimani and lawyer Paul Mwangi will be composed of a group of advisors from both sides of the political divide.
Saturday Standard has since established that the meeting which came a month after Raila's controversial swearing-in as the People's President, was as a result of immense pressure from the US government.
Kenya is one of the biggest recipients of economic aid from the US. Last year, the country received Sh65.1 billion ($632 million) as economic aid and Sh48.2 billion ($468 million) for other programmes such as HIV and Aids management, energy and agriculture.
The US, which sees Kenya as a strategic partner, has also injected billions of shillings into the fight against terrorism, which the government is keen to maintain.
But it is the visit of US Secretary of State Rex Tillerson to Nairobi that could have pushed Raila and the President to close ranks. Previously, the NASA leader had refused to recognise Kenyatta's presidency following months of acrimonious political posturing that saw tens of people killed in demonstrations across the country.
US ambassador to Kenya Robert Godec has been at the fore front of pushing for dialogue between the two leaders, a mission that included at least 10 foreign envoys in the last six months and at some point earned the wrath of the opposition coalition which accused him of being biased.
Recognise as President
Yesterday, The Wallstreet Journal, a US paper, quoted Acting Assistant Secretary of State for Africa Donald Yamamoto saying that the US had extensively engaged Raila to bring about reconciliation ahead of Tillerson's visit.
"What we said to him ... is that you have a really tremendous opportunity for historic times to really push forward political and economic reforms," Yamamoto told The Wallstreet Journal.
US, keen on having a united country, is understood to have insisted that the NASA leader recognises Kenyatta as President for Tillerson to consider any meetings with the opposition chief.
In his nine-minute address to the nation, Raila said: "The time has come for us to confront and resolve our differences. As we fight ostensibly to save ourselves from each other, the reality is, we need to save our children from ourselves."
President Kenyatta, who spoke off the cuff, echoed the opposition leader's sentiments, saying they had deep talks about the future of the country and had resolved to work together to build a united country.
"We had extensive discussions on matters Kenya and we had an agreement that the country is bigger than any of us. We have a responsibility as leaders to discuss our differences and what ails our country so that we get solutions," he said.
Uhuru said it was wrong for elections to divide the country, emphasizing that they will not allow Kenyans going forward to be divided over political affiliations.
"Elections come and go, but Kenya remains. Our future as a country cannot be dictated by elections," said the President.
"Together we want to build a united, harmonious nation where nobody feels left behind. We want to formulate a new beginning and have a country where we can differ in political alignments but united in matters Kenya."
Raila said the growing divisions along ethnic, religious and political lines since independence was dangerous for the country's future, and added it was time for leaders to confront the challenges and not run away from them.
"We have moved from year to year, election to election, never pausing to deal with the challenges that our diversity was always going to pose to our efforts to create a prosperous and united nation. Consequently, the ties that bind us are today under the severest stress," he said.
President Kenyatta and Raila referred to each other as 'my brother' through-out their address before going separate ways at 12.47pm.
According to sources, Deputy President William Ruto was in his office at Harambee House annex less than 20 metres away from the President's office as the two leaders held talks.
On the other, hand NASA co-principals Musalia Mudavadi, Kalonzo Musyoka and Bungoma Senator Moses Wetang'ula indicated they were in the dark about the meeting.
In the South Rift, MPs Nelson Koech (Belgut) and Hilary Kosgei (Kipkelion West) who are allies of Ruto, welcomed the move by Uhuru and Raila to come together, saying it will make the 2022 mathematics easier.
"We are very happy because President Kenyatta and his deputy will have ample time to concentrate on delivering their manifesto without much interference. The decision for them to work together couldn't have come at a better time," said Mr Koech.
Mr Kosgei thanked Raila for accepting to meet the President, saying the move must have been informed by the realisation that Kenya was bigger than the two.
"Raila with this single step is now on his way back to recapturing his statesman title that was slipping out of his hands after he controversially swore himself in," he said.
To fight drought, involve communities
According to the latest information from the Meteorological Department, rainfall will be poorly distributed in April, May and June, and this will have a serious impact on agriculture