Kenyans in Diaspora endorse Raila, Kalonzo swearing in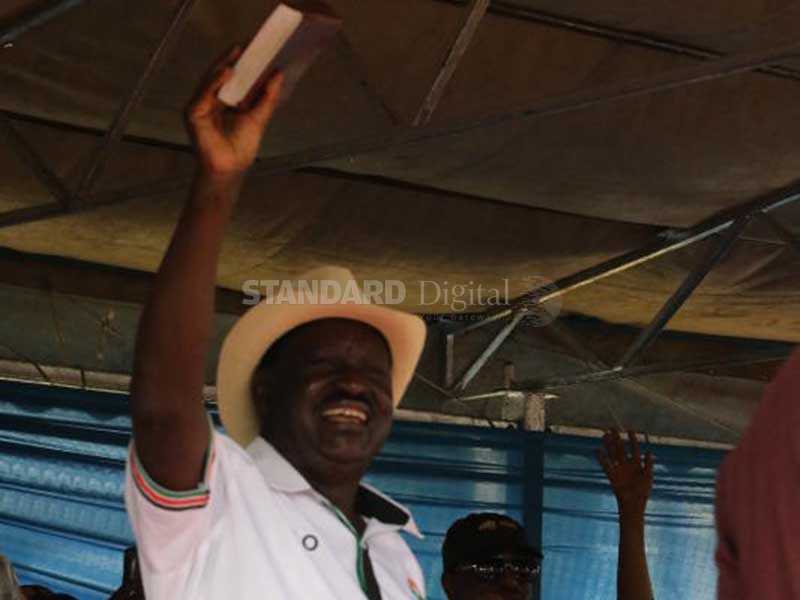 A group of Kenyan Diaspora Community National Super Alliance (NASA) in the United Kingdom have said they support swearing in of Raila Odinga and his deputy Kalonzo Musyoka on January 30.
The NASA diaspora followers said that they also plan to set up a people's assembly before the end of the month in solidarity with other Kenyans.
Speaking in a hotel in London on Thursday after their meeting to endorse the planned swearing in, the group's representative Ali Abdi said their members were committed to the NASA course in the fight for electoral justice.
"In the year of 2018, it is our hope and belief that our nation will be liberated. We in the Diaspora have paid close attention and watched in anguish at the embarrassing revelation of what is now widely regarded around the world as a farcical political system," said Abdi.
In a statement after the meeting, the diaspora group noted that they did not recognise the presidency of Uhuru Kenyatta and his deputy William Ruto because they were a product of flawed election.
They said that they watched in anguish as the entire process of election was marred by political violence and incidences of human rights violations during which the government sanctioned the use of brute force on anyone who they felt stood in their way to gaining power.
"Both the Kenyan and international law protects this right, yet we have witnessed the illegitimate Jubilee government bulldoze Kenyans through threats, arrests, intimidation, torture and murder," said Abdi.
He said they followed with dismay and shame as Uhuru Kenyatta praised the Kenyan security forces for their activities during the flawed elections.
Abdi said the country has been taken several steps backwards from the gains made in the previous years where it was looked upon in the region as a beacon of hope in terms of democracy and economic progress.
"Unfortunately, we now have a country where majority of the population is struggling to make ends meet in a weakened economy with rising government debt, misappropriation and looting of public funds by high-ranking civil servants, strikes by doctors, nurses and lecturers due to non-adherence towards agreed upon terms of employment, university students' strikes due to poor services and many others," said Abdi.
Another representative Mr Tom Juma said they had decided not to be on stand by and watch impunity take root in the country and the time to act is now.
"While pressing on in this journey towards the liberation of our nation, we encourage our brothers and sisters to continue boycotting of products produced by firms that fund the oppressive illegitimate government," he said.
Juma explained that they had also resolved that together with other Kenyans in several other cities in Europe and the United States, they will support the activation of the people's assemblies in their backyards.
"We would like to assure all Kenyans that we in the Diaspora are fully supporting your course and have resolved to set up the Kenya Peoples Assembly in the Diaspora. We will be announcing concrete steps in the weeks to come," said Juma.