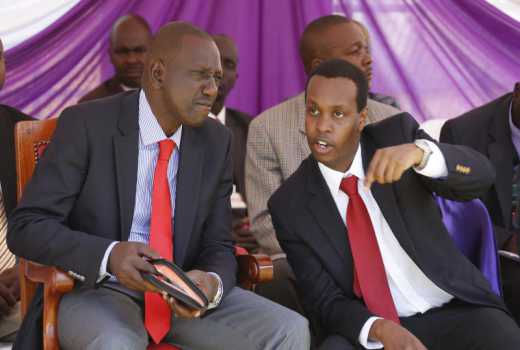 President Uhuru Kenyatta yesterday rallied MPs from three committees to reject their colleagues who had defied him to take House leadership positions.
The three Rift Valley rebel MPs yesterday snubbed an invitation by President Kenyatta and his deputy William Ruto to a meeting to discuss the leadership of four National Assembly committees.
The legislators; Alfred Keter (Nandi Hills), Silas Tiren (Moiben), Kangogo Bowen (Marakwet East) and Alex Kosgey (Emgwen) — did not attend the meeting held at State House, claiming they were separately engaged elsewhere.
During yesterday's meeting the MPs in each of their committees passed a vote of no confidence on Mr Keter, Mr Tiren, Mr Bowen and Embakasi North MP James Gakuya.
During the meeting attended by the President and his deputy, the Jubilee leadership told the MPs it was important to reject the four chairmen to retain the regional balance envisaged when the party was looking for votes.
Regional balance
Consequently, sources indicate that a majority of members of the committees wrote to the National Assembly Speaker Justin Muturi informing him of their decision to remove the committees' chairmen who interfered with sharing positions to reflect regional balance.
The speaker is therefore expected to ask the committees to conduct fresh elections next week following a petition by committee members.
"This is not a contest between the MPs and the Deputy President. It is selfishness and denying other regions representation," a source at the meeting explained.
On Wednesday, in a text to the MPs, deputy president wrote: "Mheshimiwa, This is to invite you for a consultative meeting of the Environment and Natural Resources, Agriculture and livestock, Labour and Parliamentary Broadcasting Committee with the Party Leader HE President Uhuru Kenyatta tomorrow, Thursday, January 18, 2018 at 8.30am, at State House Nairobi. Please be punctual. William Ruto."
Party wish
In December last year, the four MPs went against their party's wish on parliamentary leadership position; that is where all the trouble began. They were advised not to vie but went ahead. Keter was elected Labour chair, Tiren (chair Agriculture), Bowen (vice chair Environment) while Kosgey vied for Trade chair but did not win.
Mr Gakuya was also de-whipped after he went against the party's position and vied for the chairmanship of the Broadcasting Committee and won.
Tiren will be replaced by Mandera East MP Adan Ali who was Jubilee's preferred candidate. Keter beat, Jubilee Party's choice and Bura MP Ali Wario.
Bowen upset the plan by beating Ijara legislator Sophia Noor for the Environment and Natural Resource. Tiren said his constituency was one of the agriculture bread baskets.