NASA supporters in UK raise money for victims of political violence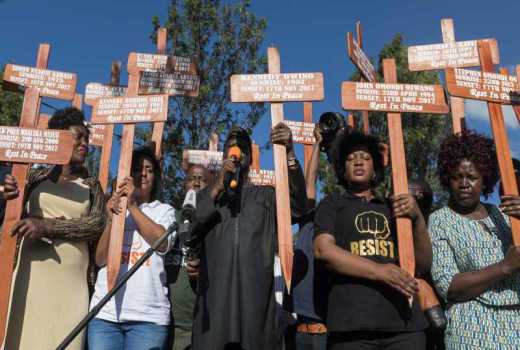 A group of National Super Alliance (NASA) supporters in the United Kingdom have raised Sh1.2million to support the victims of violence in Kenya.
The money that was handed over to NASA CEO Norman Magaya on Monday January 15 will be used pay for the hospital bills of hundreds of victims of political violence that rocked the country after the disputed and later annulled presidential general elections of August 8 2017.
While receiving the donation at Capitol Hill, the NASA CEO Norman Magaya said: "I wish to convey our sincere gratitude to your entire team for this kind gesture that goes a long way in helping to sustain the coalition's agenda on electoral justice."
He said the donation will help settle hospital bills for NASA supporters who were injured in the demonstrations as well as help facilitate the logistics and operations of the secretariat at Capitol Hill Square.
He praised the UK campaign group for the pressure it has continued to pile on the United Kingdom government to condemn the extrajudicial police killings.
UK NASA Chairman Kivindyo Ndivo said his team's resolve to fight for just and fair system of government is unwaveringly guaranteed.
"This battle has only begun and as we move forward to creating a Diaspora Peoples Assembly we will make sure that through the power of the people electoral fraud will be a thing of the past in Kenya's electoral system," said Mr Ndivo.
A member of the fundraising Committee Dana Ayub said that policy on conduct of police officers in Kenya needed urgent review.
She accused the police for handling NASA supporters with brutal force.
"We cannot have uniformed police officers used by interested parties to maim our supporters, which goes against international charter on policing" said Ms Ayub.