I am not resigning, says Nyando MP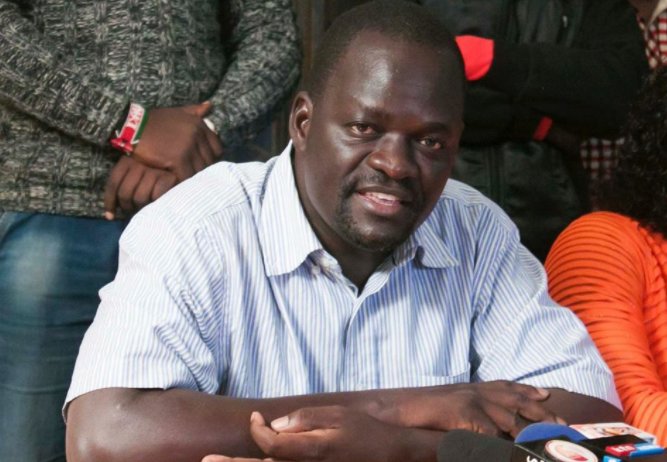 Two weeks after Nyando Member of Parliament Jared Okello threatened to resign if NASA leader Raila Odinga is not sworn in as president, the legislator has retracted.
Okello now says he put his threat on hold after meeting the NASA leadership on December 21, a move which saw him convinced against resigning.
Two weeks ago, the MP stirred a heated debate when he declared, during the burial of veteran radio journalist Agao Patrobas, that he would abandon his position should Raila not be sworn in.
And with the two-week ultimatum moving to expiry, Okello told the media that he made up his mind to fight from within, having consulted the NASA leadership, his family and constituents, all whom he said were not pleased with his decision.
He says the long discussion with his party put some sense in him and why he needed to hold on, as 'chickening out was not the best strategy to fight tyranny.'
"Since I made that pronouncement (to resign if Raila is not sworn in), Raila has coincidentally reaffirmed his commitment to carry the Bible, ad take oath of office. He has highlighted the measures to be taken before the grand event," said Okello.
He added: "I have additionally had a series of consultations with the people of Nyando, my family members and fellow leaders who have all expressed apprehension and advised that we collectively fight for the rights of the Kenyan people from within Parliament. I acknowledge that the voice of the people is the voice of God, and I will respect it."
Last week, Raila assured that his swearing in will be held early next year, claiming that the Opposition had had access to the authentic August 8, presidential election results, to whose basis they will use to swear him in as the fifth president of Kenya.
Okello Thursday reaffirmed the claims, saying failure by the Independent Electoral and Boundaries Commission (IEBC) to open its servers as directed by the Supreme Court during the presidential election petition was an indication that the original results had put Raila ahead of President Uhuru Kenyatta.
And with Raila declaring that the August 8, election was not over yet, Okello said he will continue to be part of the agitation for electoral reforms aimed at restoring sanity in the country's political democracy.
"Electoral justice at whichever level is the panacea to the current uncertainty in the country. The consequences of electoral injustice continue to manifest themselves and these consequences know no tribe. Kenyans need ballot justice," he said.