Namwamba: Oppositions' key flag bearers absence in Parliament weakening watchdog committees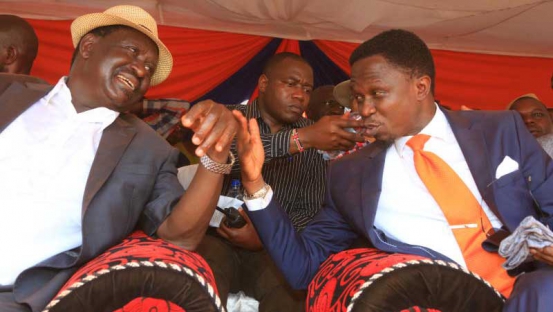 Professionals affiliated to the Jubilee coalition have proposed amendments to the current constitutional framework to empower the Opposition
The Council of Professionals of Kenya, headed by Former Budalangi MP Ababu Namwamba, said the Oppositions' key flag bearers are not in Parliament leading to a loss of profile of critical watchdog committees, traditionally headed by the opposition party leader.
Namwamba said rather than calling for sharing of power the opposition needs to be empowered to play the effective role that is critical to the country.
"The constitution set up does not offer space for opposition and we need a framework to harness that so that they can play an effective role in offering alternative to the serving government," he said.
Namwamba said that a strong democracy needs a strong opposition and without check and balance a democracy cannot function properly since they play an important role in providing practical criticism of the ruling party
He said that the role can be created in either parliament of Senate where they could better assist the country rather than the current situation which has polarised the country.
"Unlike before the leaders cannot retain their MP seat and they are out in the cold for four years yet they would player an even bigger role if they were able to sit in parliament or senate," he said.
He added that in doing so, the Kenyans who support them would also not feel disenfranchised since their leaders would be active in legislature and politics in general.
Former Senate Speaker Ekwe Ethuro said that a shared executive should not be part of the plan and the Nasa Principles ought to take up their role as opposition.
"That would only solve the problem temporarily and what we need is a long-term agenda which will ensure that everyone plays their role. They need to remember that we cannot have democracy but still have anarchy in the streets," he said.
Namwamba urged the Nasa Principles to respect the ruling by the Supreme Court.
"While we may not agree we must respect the rule of law by it is time to act with humility and grace and respect the arm of government," he said.