NASA leader asks Western governments to intervene in Kenya's electoral impasse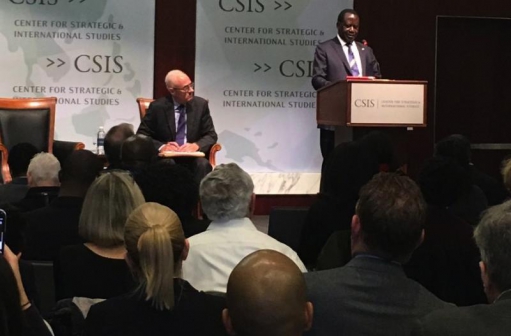 National Super Alliance (NASA) chief Raila Odinga on Thursday accused Western envoys based in Nairobi of favouring President Uhuru Kenyatta and challenged their governments to step up interventions in Kenya.
He was speaking at the Centre for Strategic and International Studies in Washington DC, USA.
Although he did not mention names, Raila accused the envoys of siding with President Kenyatta and his Jubilee administration in the disputed presidential election.
He claimed instead of assisting Kenya to resolve the crisis caused by what he termed as "lack of free and fair elections," they were part of the problem.
"The envoys have not succeeded in diffusing the crisis. Let me be blunt again. They sometimes have contributed to the problem," Raila told his audience.
"I have come to Washington to convey a simple message. We need a much fuller engagement from the many arms of governance that your country possesses to assist the envoys based in Nairobi," he added.
In an address titled, Overcoming Kenya's political crisis and advancing democracy, rule of law and stability, Raila called on the US to champion democracy in Kenya.
"Among the other great setbacks for Kenya in the current crisis has been the disappointing role of our partners who were with us in the decisive struggle for multiparty democracy in the 1990s," said Raila.
He said they intervened with lightning speed during Kenya's catastrophe a decade ago when mass violence erupted after the 2007 elections but was disappointed that they failed to intervene this time round.
Election lawlessness
"Kenya matters, at least it did then. In this crisis though, the US and other pro-democratic friends chose to avert their gaze from the unfolding election lawlessness and continued against all the evidence to support a deeply tainted electoral process," said Raila.
He claimed Kenya was hurtling towards dictatorship, accusing President Kenyatta of hanging onto power and that Jubilee planned to extend its reign with Deputy President William Ruto succeeding him.
But Ruto immediately dismissed Raila, claiming his mission to the US was to scuttle his (Ruto) presidential ambitions.
"So, Tinga went all the way to the US to seek support to scuttle the possibility of a son of a peasant being elected... in 2022! Balaa!" Ruto tweeted after Raila's speech.
Raila singled out both the IEBC and the Supreme Court of Kenya as institutions which the Government had targeted in a crackdown and wondered why the envoys did not highlight the matter.
"These two independent bodies have been targeted through a reign of terror," he said.
"The election commission was comprehensively undermined before the August 2017 elections. The assault on the Supreme Court began after a courageous CJ David Maraga and his fellow judges astounded Kenyans and the world by annulling the election of President Uhuru Kenyatta."
He said he was disappointed that despite alleged massive malpractices and admission by IEBC chairman Wafula Chebukati that he could not guarantee a free and fair election prior to the October 26 poll, the envoys based in Nairobi urged him to participate in the election.
He said the wrangles that rocked the electoral body before the repeat poll forced Roselyn Akombe, one of the electoral agency commissioners, to resign.
"Before that a commissioner had resigned and also cited the reasons why she thought elections cannot be free and fair," he said.
"But in a stance that has astounded Kenyans, the Western envoys two days later announced they believe that the commission in Kenya could hold a free and fair poll and supported that highly controversial election," he added.
Moi day is back
The High Court has declared that October 10 is still a public holiday.