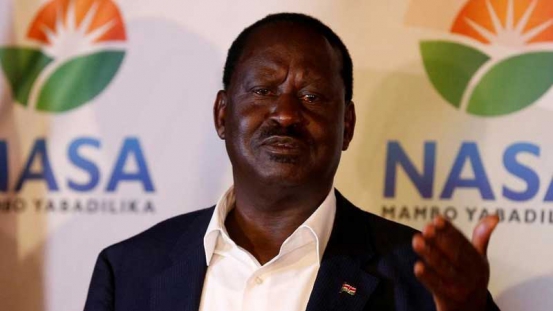 National Super Alliance (NASA) leader Raila Odinga has said the National Resistance Movement will ensure that President Uhuru Kenyatta steps aside if he is declared winner by IEBC. Raila indicated on Friday that NRM will not use violence to eject Jubilee Government from power, but rather use peaceful resistance. The former Prime Minister also pointed that his brigade will not use demonstrations as some Jubilee politicians have alleged. He, however, did not state the specific methods that NRM will use to spearhead its grand plan.
SEE ALSO: Why politicians want nicknames on ballots
"We're not going to go for violent confrontation with government. We're going to do peaceful resistance, not through demonstrations but through other methods," Raila said in an interview with CNN on Friday. The Opposition chief said that the movement will announce in detail the measures they are going to take on Monday to force Government to step aside. "On Monday, we are going to announce a series of measures that we'll take in order to bring pressure on this government to step aside," he said. Raila went ahead and said that if Uhuru is announced winner, they will announce measures they are going to take to enhance pressure on the Government to step down.