IEBC to declare results if voters fail to turn up for repeat presidential poll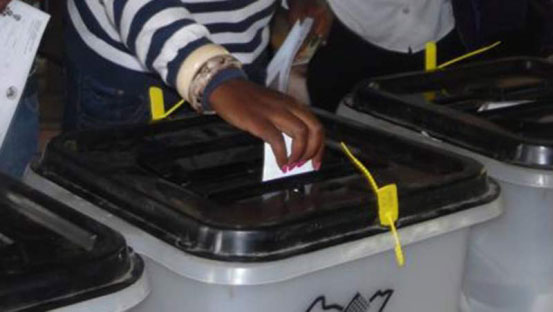 Independent Electoral and Boundaries Commission (IEBC) chairman Wafula Chebukati says he will have to declare the results of the repeat presidential election if voters in areas the Commission has directed to cast their ballots on Saturday do not turn up for the exercise.
Chebukati at the same time clarified that it was not only the four counties of Nyanza where the Commission had ordered the repeat exercise, saying there were pockets of polling stations across the country where the repeat election was not held on Thursday.
He, however, could not give all the names of the polling centres outside Kisumu, Siaya, Homa Bay, and Migori where the repeat elections were not held, promising that they would be gazetted on Friday for them to prepare for the Saturday's exercise.
"We are still working on the information (regarding all areas where there were no elections). Some could not take part in the exercise because of poor weather, others because of insecurity. The polling stations will be gazetted tomorrow (Friday) to have voters prepare for the exercise on Saturday," said Chebukati.
But the Chairman said the commission would have to declare the results if the voters in these areas fail to take the second chance granted to them on Saturday.
He said that the Constitution requires the electoral body to declare the results at least seven days after the elections are held, and thus it may be difficult to order repeat exercise in areas where the voters do not turn up.
"Those who do not want to vote will not be forced. It was our decision to give them another chance but if a similar situation is witnessed on Saturday the Commission will sit down and agree on the next step. However, we cannot keep pushing this chance, we have to declare the election by the seventh day," he said.
Chebukati said they had made all considerations in coming up with Saturday as the appropriate day for the repeat of the exercise, saying those whose religious inclination may hinder them from taking part in the poll will have to make sacrifices if they are interested in casting their ballot.
In his periodic updates, Chebukati said the turnout for Thursday's exercise was estimated at 48 percent by 5 pm, but added that this was not the final turnout percentage.
Chebukati revealed that they had received opening messages from 35564 representing 87 percent of the 40883 polling stations, which is an indicator that they opened the stations to start voting.
He said 5,319 polling stations did not send an opening message, meaning either they did not start the voting or had network challenges.