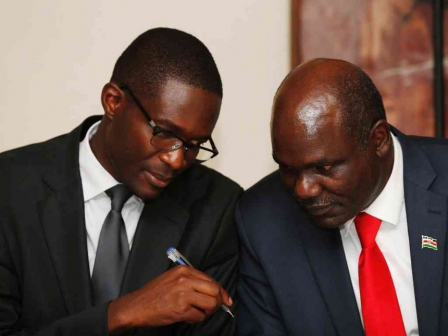 An attempt to reconstitute the current electoral commission for bungling the presidential elections will hit snag or create a constitutional crisis if it succeeds. The constitutional provisions governing the removal of the commissioners and the role of President Uhuru Kenyatta in the process makes it impossible for the Wafula Chebukati-led team to exit at this time. Friday, the Supreme Court ordered IEBC to organise and conduct a fresh presidential election within 60 days in strict conformity with the Constitution and applicable laws. However, even as they hailed the landmark ruling, NASA leaders, led by
Raila Odinga
, turned their guns on IEBC saying they had no faith in the commission as currently constituted and that they could not trust the poll agency with the mandate to hold fresh presidential elections within 60 days as directed by the court.
SEE ALSO: Baba: Reggae was on 'half-time'
"We have no faith in the electoral commission as currently constituted. They have committed criminal acts; most of them actually belong to jail and, therefore, we shall ask for prosecution," Raila said shortly after the judgment. The law stipulates that a commissioner can only be removed from office through death, resignation and end of their tenure or through setting up a tribunal. In case of a tribunal, Parliament will receive a petition, and if MPs are satisfied, they will forward the petition to the President, who will then suspend the commissioner(s) and appoint a tribunal to investigate any adverse claims. However, Article 134 of the Constitution gives the President remarkably limited power during temporary incumbency. Under that Article,
President Uhuru
became a caretaker president soon after the Supreme Court verdict.
SEE ALSO: You can't stop my bid, Ruto tells 'deep state'
Temporary incumbency is defined as a person who holds the office of President or who the Constitution authorises to exercise the powers of the President; during the period commencing on the date of the first vote in a presidential election, and ending when the newly-elected president assumes office. Some of the powers taken from President Uhuru now include; the nomination or appointment of judges of superior courts; the nomination or appointment of any other public officer and the nomination, appointment or dismissal of Cabinet Secretaries. This means that even if the political class agrees to push out IEBC like they did last year when they sent home the Isaack Hassan-led team, the law ties Uhuru's hands. Friday, Chebukati sought to exonerate the seven commissioners from any culpability, saying his team only assumed office seven months before the polls while inviting the Director of Public Prosecutions (DPP) to probe officers who bungled the elections. "There are certain issues that will be raised concerning the errors. Whoever was part of the problem will have to take individual responsibility. As of now, I did not hear, in the judgement, I did not hear any mention with regard to the electoral commission chairman," Chebukati said.
SEE ALSO: 2022: Raila purges top ODM organ