Uhuru, Ruto call for peace regardless of elections outcome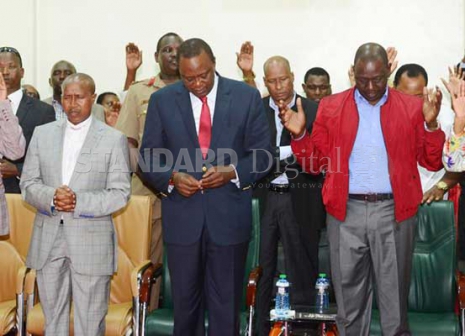 President Uhuru Kenyatta has appealed to Kenyans to maintain peace ahead of tomorrow's polls, saying the choice of leaders should not cause disharmony.
He lauded the public for conducting themselves peacefully during the campaigns and urged them to do the same during and after the vote.
"Elections are a one-day affair. After Tuesday, Kenya and Kenyans will remain. So let us be peaceful and remain united just like we are in this church which has brought together all people from Kenya and beyond," said President Uhuru when he attended a church service at Jesus Winners Ministry in Nairobi's Roysambu.
He appealed to Kenyans to wait for poll results at home after voting, insisting only the Independent Electoral and Boundaries Commission (IEBC) has the mandate to give official results.
"Vote for whomever you want since the ballot is your secret, but go back home, cook food and invite your neighbours and friends to share the meal. Ensure that you continue relating well with your neighbours regardless of where he or she comes from," said Uhuru who was accompanied by his deputy William Ruto and other Jubilee politicians.
Echoed call
He said the over 42 communities in the country should continue co-existing despite their political preferences, adding that every Kenyan has a democratic right to pick a leader of their choice.
The President exuded confidence of a win in tomorrow's polls, noting he had traversed the whole country and convinced voters to re-elect him. He also reiterated that he would respect the polls' outcome.
Other speakers including Ruto, his wife Rachel, Nairobi Jubilee's gubernatorial candidate Mike Sonko and his Kiambu counterpart Ferdinand Waititu all echoed the President's words, calling for peaceful elections.
Ruto said despite all the challenges in the run-up to the elections, he was confident the exercise would go on peacefully.
"This election has been different. We have had many issues discussed and many political formations that cut across many regions formed. This is good for our democracy," he said.
"As we vote tomorrow, let our spiritual fathers pray that we silence every rumour, arrest every confusion and allow Kenyans to have peaceful elections."
Noting that this is a highly charged general election, the Deputy President called on all contestants to work together for the sake of the country no matter the outcome.
"Everybody will win in this election and this is good for our democracy. Let us work together and whoever loses should accept and know that there is another chance after five years," said Ruto.
Mrs Ruto urged Kenyans to be ambassadors of reconciliation and not agents of disharmony.
Uhuru is facing a stiff challenge by National Super Alliance (NASA) candidate Raila Odinga, with pollsters increasingly pointing to a likely run-off between them.
Many opinion polls have predicted a tight race, pointing out that none of the two candidates is likely to garner the requisite 50 per cent plus one in the first round victory.
However, both camps have exuded confidence of winning the contest in a one-off race.
Raila has in the past said he will concede defeat if the polls are conducted in a free and fair manner.