Uhuru's path to power: Intrigues, godfathers, deep pockets and ICC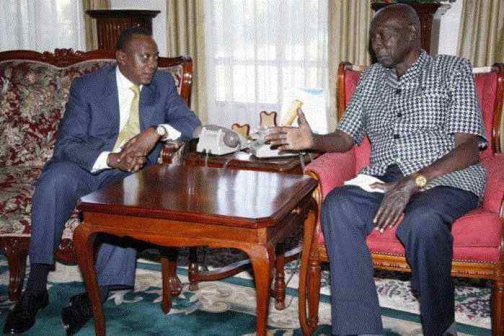 The story of Uhuru Kenyatta's rise to power is one of pragmatic political betrayal, complete with casualties, favours from political godfathers, the advantage of a popular family name and the wherewithal required to marshal a presidential campaign.
The machinations that got him into Parliament and into government, setting in motion his maiden presidential run, came to the fore when he went to bury Mark Too in January this year in Uasin Gishu County. Right there, Uhuru confessed that he owed his political career to Too.
Having lost the Gatundu South seat to Moses Mwihia in 1997, Uhuru lost interest in politics. But President Daniel Moi appointed him chairman of the Kenya Tourism Board, jump-starting his political career.
Then one day in 2002, Too and Uhuru went to State House to dine with the President. According to Uhuru, Too plotted to get him into Parliament by having an unnamed nominated MP from Coast resign. But Moi had other plans. He told Too to quit as a nominated MP.
Too, the wily politician who engineered the merger between Kanu and Raila Odinga's National Democratic Party (NDP), thought through it and asked Uhuru to beg Moi to target the Coast nominee.
"Mark told me to go and tell Mzee to target the Mombasa seat. 'Tell him you need Mark Too so that he shows you around Parliament and how things work (in politics and power circles)'," Uhuru recalled.
That he was going to deal with Moi, a powerful President, made it doubly hard for the inexperienced Uhuru to play game. Uhuru went to Moi and told him that Too had sent him. Moi was upset. He called Too and chided him.
Too went to Uhuru's home: "Wewe umeenda kunishtaki kwa Mzee, nilikwambia useme ni wewe (You went to report me to Moi... you were supposed to make it sound as if it is coming from you)."
Games in politics
Uhuru apologised. "I told him I didn't understand the games in politics. But that I was going to learn step by step. In the end he quit and I was appointed in his place, and that is what began my political journey to where I have reached today. I am eternally grateful to Mark, because, if it were not for him, perhaps, things could have been different," said Uhuru. It was a rare confession.
Uhuru joined Parliament as a nominated MP and thereafter Moi appointed him Minister for Local Government.
At that time, Raila Odinga was in Kanu and was working hard to popularise the party. He knew Moi was leaving and there was a chance that he was going to succeed him. Then on March 18, 2002, when the merger with NDP was going to be endorsed, Moi formally introduced Uhuru to the Kanu delegates at Kasarani Stadium and just like that, forced his Vice President George Saitoti to utter those famous words: "There come a time when the nation is more important than an individual."
Saitoti, then the lone vice chairman of Kanu, missed out on the vice chairperson slot, while Uhuru was picked among the four vice chairpersons to represent Central Kenya. The others were Musalia Mudavadi (Western), Kalonzo Musyoka (Eastern) and Katana Ngala (Coast). Saitoti had become another casualty.
Raila, Kalonzo, Mudavadi and Ngala still had some hope that given Uhuru's inexperience in politics, he was unlikely to be the one to fly Kanu's flag in the 2002 General Election against Mwai Kibaki. Moi had other ideas. He wanted Uhuru and only Uhuru. Everyone else had to fall in line.
But they didn't toe the line. So on July 28, 2002, at Eldoret State Lodge, Moi made it clear, "I have chosen Uhuru to take over leadership when I leave. This young man Uhuru has been consulting me on leadership matters. I have seen that he is a capable person who can be guided. If there are others who are chosen, then it will depend on the people," said Moi.
Raila and the team did not believe their ears. There were reports back then that Moi had promised Raila the presidency, but Moi denied.
Quit presidential race
Kalonzo, in his book, Against All Odds, says he met Uhuru at State House on Moi Day in 2002 (October 10) and asked him to quit the presidential race.
Uhuru responded, "Stephen, I cannot do such a thing."
To date, Kalonzo says, he's never understood Moi's decision to pick Uhuru.
"It seemed almost desperate. We all knew at some stage in 2002 that even Mama Ngina Kenyatta, Uhuru's mother was supporting Kibaki's bid for the presidency and Moi knew as much," he said.
The elections came, Uhuru vied and lost. He was the official leader of Opposition in Parliament. Fast-forward to 2007: As elections approached, Uhuru was expected to run against Kibaki's bid for the second term. But in September that year, he said he wouldn't be vying and endorsed Kibaki. This did two things: it shored up Kibaki's support and consolidated the Mt Kenya vote.
The elections were shambolic. Officially, there's no consensus about who the clear winner was, then violence broke out, and Kalonzo, who came third, closed ranks with Kibaki in exchange for the vice presidency. Raila, stuck it out, and in the end, Kibaki yielded and formed a coalition government with Raila as Prime Minister, and co-principal with a 50-50 power sharing, although an examination of who was calling the shots tells a different story.
It is at this point that we also learn that Uhuru's place in the coalition government was in jeopardy until Dr Romano Kiome, one of those in the Kibaki's inner circle, pushed Kalonzo to endorse Uhuru to be appointed Deputy Prime Minister, and not Martha Karua.
Kalonzo met Kibaki in their weekly meetings and put his pitch for Uhuru: "The Kanu leader had sacrificed his presidential ambitions to support Kibaki. The family's money had also played a major role in Kibaki's re-election."
Uhuru was appointed DPM and given the plum Finance docket. Then the ICC cases came and he was forced to resign as minister, but stuck to his seat as DPM. Meanwhile, the Gema (Gikuyu, Embu, Meru Association) leaders met in Limuru in 2012 and endorsed him as the heir of the Kibaki presidency.
With Kibaki, Uhuru's godfather during his baptism, leaving office, there were backroom machinations to ensure Uhuru clinched the presidency. But this was opposed by some in the establishment, to an extent that at one point, Uhuru picked Mudavadi. There was an uproar in his camp, and he had to change his mind and blame "the devil".
Do-or-die battle
So, come January 2013, when Uhuru and his running mate William Ruto walked through the gates of the Kenyatta International Convention Centre (KICC) in Nairobi, they took a crucial step in a do-or-die battle for power. They were indictees of crimes against humanity at the International Criminal Court (ICC). They needed the power to defeat justice.
When the elections came on March 4, 2013, the Independent Electoral and Boundaries Commission (IEBC) declared him the winner.
The CORD alliance of Raila, Kalonzo and Moses Wetang'ula challenged the win in the Supreme Court, but it was dismissed on a technicality.
Tomorrow, Uhuru and Ruto will return to the KICC with their nomination papers, academic certificates, signatures of voters and proof that they are the flag-bearers of the Jubilee Party in the August 8, General Election. For the second time. Will they be lucky?