Musalia Mudavadi confirmed as NASA campaign supremo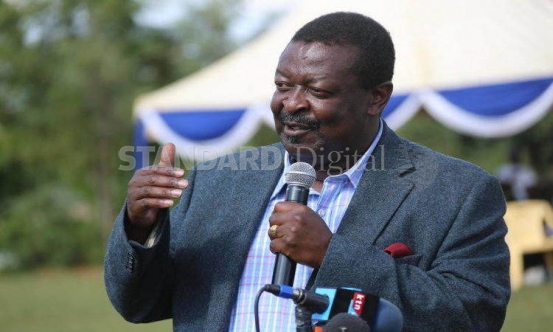 The National Super Alliance (NASA) Summit has unanimously endorsed NASA Founder and ANC Party leader Musalia Mudavadi to be the Chairman of NASA National Campaign Committee (NACACO).
The endorsement follows a proposal to the Summit by NASA flag bearer Raila Odinga.
The NASA Summit comprises of the party leaders of the five anchor parties Raila (ODM), Wiper Kalonzo Musyoka (Wiper), Mudavadi (ANC), Moses Wetang'ula (Ford-Kenya) and Isaac Ruto (Chama Cha Mashinani).
NACACO is the apex campaign decision-making body that will coordinate NASA presidential campaign and overall NASA campaign machinery. Modelled on the USA Democratic Party National Committee, Mudavadi will preside over high level research and strategy team of experts, communications, resource mobilisation, operations and logistics, and supported by a 24-hour presidential secretariat.
Mudavadi will head a NACACO team of ten highly qualified personalities seconded by the partner parties to oversee a massive structure that runs through and is replicated in 47 County Campaign Coordinating Committees (CCCCs), 290 constituencies, 1,450 wards to the 40,000 polling stations.
Mudavadi's role is in line with the NASA power sharing formula where he will head government designated as Premier Cabinet Secretary.
"I have graciously accepted to play this pivotal role because I believe a win for NASA is a win for Kenyans. We have little time for sideshows so we are going flat out for the Jubilee jugular," Mudavadi said on Friday.
He said the 'NASA Armada' will hit the campaign trail in Baringo and West Pokot next week. The week after, it will be the turn of Muslim- and pastoralist-dominated counties in the Coast and North Eastern regions.
Mudavadi said the intention is to cover the northern frontier before the advent of Ramadhan which NASA intends to honour and respect the Muslim community by not disturbing their fasting.
"The message to our North Eastern brethren is that it is NASA that has vowed to resolve all issues of historical injustices. NASA will address the pastoralist economy by realising social and economic rights. Our policy platform is clear on actualising basic needs of pastoralists. We don't want to turn Livestock farmers into wheat farmers but commercialising livestock farming", said the ANC leader.
He told Kenyans to brace for more revelations on how Jubilee is looting the country.
"We shall not be weary in reminding Kenyans they have a rogue regime for a government. Let Kenyans brace themselves for more scandals on the Unga revolution, the magic disappearance of Jubilee's vaunted roads network, and the Last Mile Electricity Project," Mudavadi said.