ODM and Chama Cha Mashinani leaders clash over power sharing deal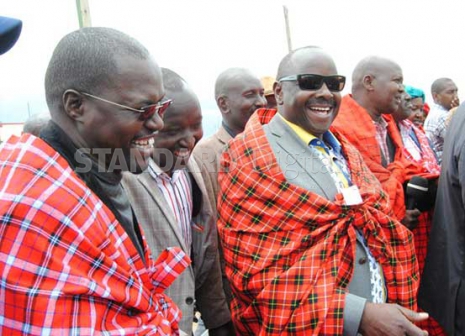 A Chama Cha Mashinani (CCM) MP in Narok has asked area ODM gubernatorial aspirant Joseph Tiampati to shelve his bid in favour of the CCM candidate to consolidate the Maasai vote against the Jubilee Party.
Emurua Dikirr MP Johana Ng'eno who ditched Peter Kenneth's Kenya National Congress to join CCM said the only way they can beat the incumbent Samuel Tunai is for CCM and ODM to merge.
Ngeno said members of the Maasai and Kipsigis community would open talks with ODM's Tiampati with a view to prevailing upon him to step down for Ntutu.
Tunai, who hails from Siria clan enjoys support from the Kipsigis in Narok West and South as well as other small Maasai clans.
On the other hand, CCM's Patrick Ntutu and Tiampati enjoys support of the populous Ilpurko clan and should both run, they will divide the vote.
Ngeno said: "We cannot afford to divide our votes; that would be tantamount to giving this man (Tunai) a second term, which he does not deserve."
CCM leader Governor Isaac Ruto said the party was still in talks with NASA and Jubilee coalitions for a pre-election pact and that an announcement on the results would be made public soon.
"CCM party delegates last week extended the mandate that was given to us by elders to engage with both NASA and Jubilee for a coalition pact and that is what we are doing at the moment," he said.
Recently, Governor Ruto was quoted saying that they had agreed with ODM that they won't field candidates in South Rift in exchange for support of ODM leader Raila Odinga's Presidential bid but the move was met with sharp opposition from ODM Narok leaders.
The ODM leaders led by Narok North MP Moitalel ole Kenta opposed the alleged deal saying Narok has got own leaders and Ruto was not one of them saying the Maasai community are in ODM by choice and will not support any candidate from another party.