How NASA technical team settled on Kalonzo as Raila's running mate in August elections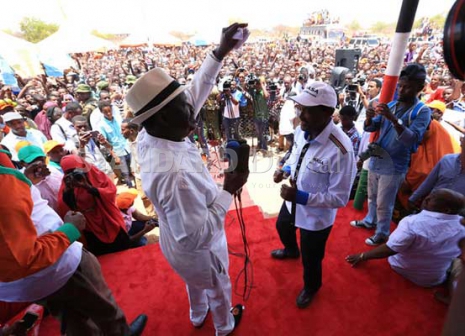 Reports suggest Raila Odinga is emerging as the favourite presidential candidate for the Opposition alliance, with Kalonzo Musyoka as his running mate.
Multiple sources told The Standard yesterday that the National Super Alliance (NASA) Co-ordinating Committee (NCC) had voted 8-3 for a Raila-Kalonzo ticket, retaining the pair who unsuccessfully ran against Uhuru Kenyatta and William Ruto in 2013.
The committee has 12 representatives drawn from Raila's ODM, Wiper (Kalonzo), Musalia Mudavadi's Amani National Congress and Moses Wetang'ula's Ford-Kenya. Wiper representative Francis Nyenze did not attend the committee meeting.
Mr Mudavadi is reportedly the designated Chief Minister should NASA win the August 8 General Election.
Mr Wetang'ula, the Ford-Kenya boss and Senate minority leader, has been earmarked for the key position of National Assembly Speaker.
The committee has had a two-month marathon culminating in a final report whose contents are expected to be shared with the four NASA principals.
The committee's decision made on Tuesday night was informed by proposals from a team of experts tasked with conducting a Strengths, Weaknesses, Opportunities and Threats (SWOT) analysis of the four principals before settling on the most suitable candidate.
"This was an agreed position. All of us agreed with what we were given and there is no fear that one of the parties will disown what we have come up with," said a source within the co-ordinating committee.
The committee's recommendation, however, is not final as the report will be submitted to the four principals, who will make the ultimate call.
It is not yet clear when the NASA line-up will be made public, but according to credible reports, it could be as early as the weekend.
Common ground
However, there is a possibility the four principals could go on a retreat to create a common ground before announcing the final decision to the party's rank and file.
But it is unclear at what point or what informed the reported proposal given that earlier sources within the technical committee had suggested that the team had settled on a Mudavadi-Kalonzo ticket.
The team, according to a draft seen by The Standard, had said a Mudavadi-Kalonzo ticket was formidable, but only if Raila backed one of them and rallied his supporters to vote for him.
According to the draft titled 'Crunching Numbers 2017 and Finding a Relevant NASA Candidate', the technical committee had drawn up five scenarios in which Raila wins as Mudavadi emerges number two.
The Standard confirmed that Mr Nyenze did not attend the final meeting at which the decision to crown Raila was reached.
"We are not sure if he absconded the meeting or he had other commitments. We wanted him to raise his objections but he did not turn up, so we assume he is in agreement with our decision," said another source.
In the earlier draft report, the scenarios the candidates were weighed on included which candidate was likely to increase turn-out in NASA strongholds and which candidate was likely to depress by 40 per cent voter turn-out due to voter apathy by county in the coalition's strongholds.
Others were which candidate can infiltrate Jubilee strongholds and get 40 per cent of the vote, which candidate can turn Jubilee strongholds into battlegrounds by getting 50 per cent of the vote and which candidate is likely to win swing counties with 60 per cent of the vote.
Using the latest mass voter registration figures, the team projected that NASA could bank on 8.2 million votes to Jubilee's 7.9 million, but cited the margin of 257,197 votes as too low.
The team identified nine counties as swing areas with a total of 3.7 million votes.
Other considerations were specific dominant party perception, recent 'likely to win' perceptions on NASA leaders and impact of recent defections.
The candidate should also be able to raid at least 40 per cent of the vote from Jubilee strongholds and win over 60 per cent of the 3,786,455 swing votes.
He should also be able to turn counties into NASA strongholds and not arouse strong incentives to steal the vote.
In scenario one, it was suggested that Raila would increase turn-out in 12 counties - Kisii, Nyamira, Migori, Kisumu, Busia, Siaya, Taita Taveta, Kilifi, Kwale, Homa Bay, Turkana and Mombasa. He will win 4.579,488 votes out of 8,208,208.
Mudavadi came second with eight counties - Vihiga, Kakamega, Bungoma, Taita Taveta, Kwale, Kilifi, Mombasa and Trans Nzoia. It was projected he had 3,459,396 votes.
Kalonzo at number three would increase turn-out in seven counties: Makueni, Machakos, Kilifi, Taita Taveta, Kwale, Kitui and Mombasa. He was projected to get 3,074,322 of the total votes.
Wetang'ula was projected to have seven counties, namely Vihiga, Kakamega, Busia, Bungoma, Trans Nzoia, Mombasa and Turkana. He will get 3,047,100 votes.
On who will depress votes by 40 per cent, Raila led in seven counties, followed by Mudavadi in nine, Kalonzo in 12 and Wetang'ula in 15.
In scenario three, Raila was tipped to infiltrate nine Jubilee counties and get 40 per cent; Kericho, Bomet, Meru, Tharaka Nithi, Nakuru, Uasin Gishu, Laikipia, Isiolo and West Pokot were cited as areas he could secure 3,525,438 votes.
The report gave Raila 40 per cent (3,180,403) out of Jubilee's 7,951,008 votes.
Mudavadi is tipped to poll 3,180,403 votes in 10 counties.
Kalonzo was projected to garner 1,642,672, which doesn't give him 40 per cent, in Bomet, Tharaka Nithi, Meru, Embu and Isiolo.
Raila, the team felt, can also turn Jubilee strongholds into battlegrounds and get 50 per cent and win in swing counties by 60 per cent.
He is followed by Mudavadi and Kalonzo. Wetang'ula's contribution in the above two scenarios is unknown.
To fight drought, involve communities
According to the latest information from the Meteorological Department, rainfall will be poorly distributed in April, May and June, and this will have a serious impact on agriculture