Joho's re-election bid boils down to how fierce rivalry in NASA play out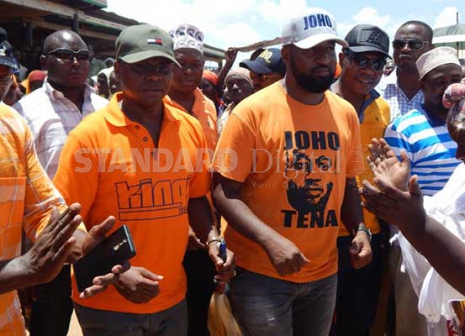 While on paper Mombasa Governor Hassan Joho is among ODM leaders with a higher chance of re-election, the changing political dynamics in the National Super Alliance (NASA) stand between him and his dreams.
Wiper has already ruled out joint nominations with parties in NASA, insisting it will field candidates for all seats across the country. Mombasa Senator Hassan Omar, the party Secretary-General, has said there is no agreement on joint nominations. Him and Nyali MP Hezron Awiti are seeking the Wiper ticket to unseat Joho.
Musalia Mudavadi's Amani National Congress (ANC) also argues that every candidate from NASA affiliates should be free to vie for any seat in respective counties without the restriction of joint nominations.
These sentiments are incidentally shared by Moses Wetangula's Ford Kenya, a development that could eat into Mr Joho's support in Mombasa.
The latest developments come at a time an opinion poll released on Tuesday by little-known pollster, Trends and Insights for Africa (TIFA), puts Joho's popularity at 68 per cent.
Jubilee's Suleiman Shahbal came a distant second with 15 per cent and Omar emerged third with seven per cent. The two have dismissed the poll.
Some political observers say Joho's survival will largely depend on how NASA handles the competing rivalries, especially between Joho and Wiper aspirants Omar and Awiti.
Divided opinion
While opinion is still divided on this issue, Prof Rocha Chimera of Pwani University argues that Joho will have an uphill task retaining his seat if NASA affiliate parties fail to agree on a joint nomination and field separate candidates.
"While Governor Joho remains a formidable force in Mombasa politics, his chances of being elected will be weakened if NASA fails to have a single candidate," he says.
But former Shirikisho Party national treasurer Mwakio Ndau says Joho stands a strong chance of re-election, even if NASA affiliates field candidates in Mombasa. Mr Ndau says, however, this will largely depend on the voting patterns of upcountry voters.
"A large bloc of upcountry voters and specifically the Luo feel Governor Joho has been unappreciative of them and if they decide to back somebody else, the governor's support with be greatly eroded," he says.
Kenya Muslim Advisory Council Chairman Sheikh Juma Ngao says despite the internal rivalries, Jubilee candidates in Mombasa and Coast region in general will face a hard time in upstaging their NASA opponents.
"In Coast it is difficult to sell Jubilee Party (JP) candidates because the party lacks strong people to propagate its interests and that is why President Uhuru Kenyatta is the one engaging people like Governor Joho," says Ngao. He says JP's activities in Coast are disjointed and flawed because it is using people who have defected from NASA to spearhead its campaigns.
Joho has declared Coast an ODM zone and insisted that his main rival was Suleiman Shahbal from JP. He dismisses his rivals, including his colleagues in NASA, as non-starters.
"As you all know, Mombasa is an ODM zone. Our competitor is Jubilee and it is ODM candidates who will carry the day in August. The others have no chance whatsoever," said Joho shortly after arriving from a tour of the US.
In 2013, Joho beat Shahbal largely due to support from the Coalition for Reforms and Democracy (CORD) voting bloc.
The communities that supported CORD in large numbers in 2013 included Luos, Kambas, Luhyas, Kisiis and Mijikendas.
The entry of Awiti and Omar into the race does not assure Joho of 100 per cent support from this voting bloc.
It has to be remembered that in 2013, Awiti was denied the ODM ticket before he defected to Wiper. A few people tipped him to win, especially after Raila campaigned against him. But he defied all odds to win the Nyali seat.
The loyalty of NASA supporters is now divided between Joho, Omar and Awiti and while Joho is viewed as the front-runner, the shadow of his two rivals among NASA supporters looms large.
Both Omar and Awiti have been on a charm offensive, luring Joho's key supporters to their side.
While Joho argues that his support is intact, he knows his chances of going for the presidency in 2022 as he has declared depends on him recapturing the Mombasa governor's seat. And as the governor's race continues to gather momentum, political observers believe that whoever among the aspirants marshals the support of both upcountry and the Mijikenda votes will have an upper hand.
Awiti has received a major boost after Kaya elders endorsed his candidature. According to Mwanamgeni Salim and Ibrahim Kai, two opinion leaders from the Mijikenda community, this endorsement has given Awiti political leverage to get the support of other NASA supporters in Mombasa.
Blunders
Joho's opponents are taking advantage of the blunders the Mombasa governor made after being elected to spite him. Key among the issues is the eviction of hawkers, mechanics and curio dealers from the Central Business District, the governor's failure to address the issue of absentee landlords and accusations of unfair award of tenders, among others.
The alleged monopolisation of tenders within the county government by Governor Joho's cronies and relatives has set him against influential Coast tycoons who have ganged up to fight him.
Awiti and Omar have been vocal in agitating for and defending the rights of these groups, who they now bank on for support. And even as the two have been scheming for Joho's downfall, the governor has made a name for himself as a loud Jubilee critic.
According to Prof Chimera, the governor has been able to re-invent himself politically and he is today among the shinning lights, not only within ODM but in the Opposition in general.
To fight drought, involve communities
According to the latest information from the Meteorological Department, rainfall will be poorly distributed in April, May and June, and this will have a serious impact on agriculture