Intrigues that led to Charles Njonjo's fall from grace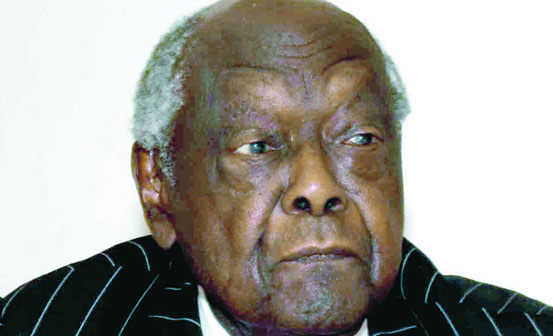 Former Judges and Magistrates Vetting Board chairman Sharad Rao has revealed the behind-the-curtains dealings that led to the fall of former powerful Attorney General and Constitutional Affairs Minister Charles Mugane Njonjo.
In a speech delivered at the UK's House of Lords on Monday, Rao told an audience that included former UK envoys in Kenya that a controversial Indian astrologer "fixed Njonjo".
In 1983, Njonjo was forced to resign and left public life, after a judicial inquiry concluded he had abused his office, amid allegations that he was trying to take over the presidency from Moi.
The astrologer, Chandraswami (real name, Nemi Chand), had risen to fame as a result of his close association with former Indian Prime Minister Narsimha Rao and had apparently met and correctly predicted that Margaret Thatcher would become the PM of Britain.
In the speech largely lifted from his new book, Indian Dukawallas: Their contribution to political and economic development of Kenya, Rao says Chandraswami impressed top State officials with his "tantric and astrological skills".
"It is believed that during one of his several calls, he identified a number of (former President) Moi's close associates as his enemies and also named Charles Njonjo among them after failing to extract a financial consideration from Njonjo for not citing him as such," Rao told the gathering at House of Lords's committee room 2A.
He told the gathering that when Thatcher was reminded of her encounter with the astrologer during an Indian visit much later, she quipped: "We shouldn't talk about these matters."
The astrologer was to be convicted later in 1996 of massive financial irregularities in India.
In the book, Rao mentions that the astrologer met top State House officials about the same time when US Vice President, later President, George Bush visited the country. Bush visited Kenya in October 1982, a few months after the attempted coup.
In the speech, Rao also spoke of "rumours" that Bush mooted the possibility of appointing Njonjo as Vice President, alarming "Moi's confidantes who saw it as a US move to bring in Njonjo as Vice President and later make him the President".
Rao credits Njonjo for "changing" Moi's attitude towards Asians. He says Njonjo was a "strong defender of the European and Asian communities".
He says the 1972 expulsion of Indians from Uganda by Idi Amin had left Kenyan Indians scared, especially after it "seemed to have the support – at least sympathy – of Moi".
"Many Asians in Kenya were apprehensive that Kenya may act against them in a similar fashion and they left Kenya as a result," he says.
But much later and through Njonjo's influence, he says, Moi would grow fond of Kenyan Asians and even went on to establish "close links and personal friendships" with some of them.
He says the commission that investigated Njonjo of involvement in the 1982 coup was contrived from the beginning, with the sole idea of fixing Njonjo.
The tribunal headed by Justice Cecil Miller, with Justices Chuni Madan and Lady Effie Owuor as members, found Njonjo guilty of plotting against Moi "despite lack of any evidence to justify the finding", he says.
He says Miller was rewarded by being appointed the Chief Justice and Njonjo "graciously" pardoned by Moi for an offence he did not commit.
He terms the accusations against Njonjo as "ironic", given the crucial role he had played in Moi's ascendancy to the throne against a strong Kikuyu tribal wave.
Rao discusses the trial of Njonjo's distant cousin Andrew Muthemba of treason on March 19, 1981.
He says prior to the charge, he discussed the matter with Moi and then Attorney General James Karugu where he (Rao) impressed on the pair that the crimes Muthemba was accused of were not serious enough to warrant the first ever treason charge in Kenya.
"After assurances from Karugu that the treason charge would succeed and that if it did not he would resign as AG, it was decided to proceed on charge of treason," the book says.
The case failed and, true to his word, Karugu resigned.
Vital evidence
Rao says that was not the end of the matter at the Njonjo inquiry. He was questioned on why he did not produce what the tribunal considered "vital piece of evidence" in a tape recorded conversation of Muthemba, which in their view would have nailed him.
Rao says he had discarded the tape after he found it to be inaudible and thus of no evidentiary value. The tape was replayed at the Njonjo tribunal and found to be inaudible.
"But the tribunal anxious to rely on any material that would make an adverse finding against Njonjo, reprimanded Rao severely," the book says.
Rao claims he was moved from being the Director of Public Prosecutions (DPP) to the Iran US Claims Tribunal in The Hague in 1984 because of his perceived closeness to Njonjo.
The book celebrates all Kenyans of Asian origin who have made a positive mark on the Kenyan history. It also rebukes a few Kenyan-Asians who have allegedly tarnished the "otherwise excellent image of Asians".
In this dubious category are named businessmen Kamlesh Pattni and Ketan Somaia and the Asian names behind Anglo Leasing, Triton and Imperial Bank scams.
"None of these schemes was purely Asian-oriented. All also involved other Kenyans in high places, and it is largely because of these high level contacts that none of them was successfully prosecuted," Rao says.