I'm now fit after food poisoning scare, declares Opposition leader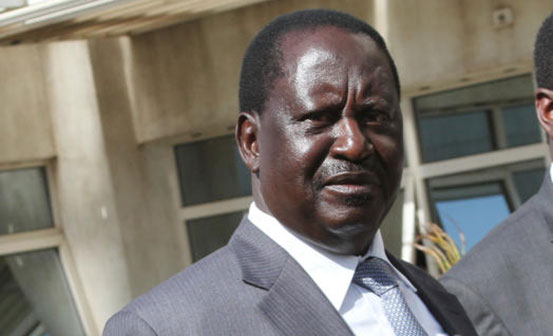 "I am now okay and tell Kenyans I thank them (for their concern)." Those were the words of Opposition leader Raila Odinga reassuring the nation Thursday.
Journalists caught up with him as he walked into the Serena Hotel gym for his routine workout, only a day after he was discharged from Karen Hospital, Nairobi, after a bout of food poisoning.
Raila fell ill on Tuesday evening and was rushed to the hospital at around 10pm and was admitted for tests, treatment and observation until noon the next day.
"I am okay. I am feeling very okay. The doctors looked after me very well. I was feeling uncomfortable the day before Thursday. In the course of the day, it got worse and in the evening I was taken to hospital where the head of the hospital Dr (Dan) Gikonyo got a number of experts and did a bit of examination and found that it was food poisoning," said the Orange party leader.
He said he did not know where exactly it happened (food poisoning) but the doctors took care of his situation.
"So I am out of danger. Food poisoning is not necessarily that someone has given you poison. It is when you eat something that does not agree with your system. So right now, I am completely out of danger. As you can see I am out of danger," he said.
Thanked Kenyans
Later in the evening, Raila released a statement through his spokesman Dennis Onyango in which he thanked Kenyans for standing with him.
"I wish to sincerely thank all Kenyans for the prayers, messages of solidarity, sympathy, love and support on learning of my brief hospitalisation Thursday. Those prayers and messages of love have continued to flow today, many hours after I was treated and discharged."
"Your prayers worked. I wish to assure everyone that I am fully recovered and ready to hit the road again. We thank God for that," he went on.
He added: "It was a case of food poisoning, which is not the same thing as being poisoned. I know many Kenyans encounter this problem from time to time. It can cause quite a scare and indeed it did to me."
He thanked the medical personnel who attended to him, "and diagnosed the problem correctly and fast at the Karen Hospital, leading to quick recovery".
"I continue to count on your prayers but my thoughts and prayers right now are with the many individuals and families that are also struggling with different ailments in different locations across our country. I am hopeful that with our prayers, God will come through for them as He did for me," said Raila in the closing lines of his statement.
Earlier, The Standard talked to Lugari parliamentary aspirant Nabii Nabwera, who was among those who spent hours with the NASA leader at his Nairobi residence, including taking breakfast together.
"He is in high spirits, he took breakfast normally. He is very strong and as we speak, he is already in town doing his own private business," Mr Nabwera said on the phone.
At Serena, Raila talked about his daughter Rosemary and confirmed she was operated on in Nairobi and later taken to South Africa where she is recuperating.
He said he would leave for South Africa today after a change of schedule.
The Opposition leader was due to fly out Thursday.
Raila also talked about disagreements and challenges of nominations within National Super Alliance (NASA) outfit ahead of the April deadline set by the Independent Electoral and Boundaries Commission (IEBC) for closure of nomination issue.
"A joint nomination is a minor issue. If other parties in the NASA outfit do not want the coalition to field a single candidate for a political seat, then we will conduct the nominations the way they want," he said.
Raila said those willing to defect from ODM to other parties are free to do so as the party was democratic.
"Anyone defecting from Orange Democratic Movement to another party is free to do so, that is a normal thing," said Odinga.
At the hotel, he was accompanied by some of his aides including Mr Onyango. Curious onlookers thronged hotel entrance when they saw him alight.
Thursday, a close aide of the former Prime Minister confirmed he woke up in the morning, took breakfast with some friends before he left to his private office.
His handlers said they were yet to establish where he ate the bad food that led to the food poisoning.
But they added they suspect he might have contacted food poisoning after he had a meal at a city club where he frequents.
Executive ward
He was reportedly admitted to the hospital's executive Malindi Ward and discharged at around midday on Wednesday.
At least two members of the family of the late doyen of Opposition politics, Jaramogi Oginga Odinga, separately and in confidence - because the Odingas wanted to keep the matter a private family affair - told The Standard then it was true that Raila had been hospitalised.