Nairobi Governor Evans Kidero, his deputy Jonathan Mueke enjoy as Jubilee aspirants fight over party ticket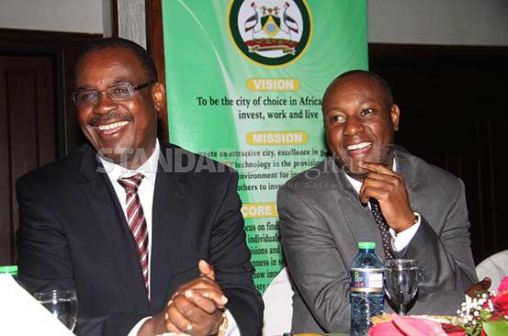 Nairobi Governor Evans Kidero and his deputy Jonathan Mueke are perhaps the only pair after President Uhuru Kenyatta and Deputy William Ruto who are sitting pretty ahead of August 8 polls.
The duo has not attracted a single opponent within their coalition while Jubilee is reeling in confusion with more than six candidates fighting for the lone ticket to take over Nairobi.
In separate interviews with The Standard on Saturday, the pair said Jubilee had already soiled their ticket by grounding it on ethnicity, Central Kenya succession politics and the 2022 presidential race. They observe that former presidential candidate Peter Kenneth would be an "easy kill" owing to "inherent contradictions" in his candidacy.
Kenneth appears to be the preferred candidate for the Jubilee coalition but is facing stiff opposition from the "Team Nairobi" quartet of Senator Mike Sonko, MPs Dennis Waweru (Dagoretti South), Johnson Sakaja (Nominated) and Former assistant minister Margaret Wanjiru.
"Apart from their squabbling, immoderate sense of entitlement and isolationist policies, the whole lot of Jubilee candidates has no agenda for Nairobi residents. Trust me, they have nothing on us," Kidero told The Standard on Saturday.
Dr Kidero, who will be seeking reelection on ODM party ticket said Nairobi is too important to be reduced to a "mere theatre" of 2022 succession politics pitting regional blocks. With its diverse population, all Nairobi cares for is a "focused ticket" committed to battling with challenges of health, education, infrastructure and job creation.
"Our ticket is a sure bet. And that is partly the reason why we have not attracted a swarm of opponents from within. Anything else is guesswork and that is the biggest promise of Jubilee — guesswork. We are already turning around the city and in the next five years, it will hardly be recognisable in both splendour and ability to meet expectations and needs of our people," Kidero added.
There was no let-up in Mueke either. The Wiper candidate said Jubilee's interest for Nairobi is fueled by its inability to come to terms with the reality of Opposition turning around the fortunes of the country's capital city. He said Kenneth was using Nairobi as "stepping stone" for his 2022 presidential ambitions.
"It was never our wish to compete against a candidate espousing narrow regional interests but it looks like that is what Jubilee is settling for. The consequence of this is that we don't have a credible opponent," Mueke said.
He said Kenneth had already branded himself a "Murang'a candidate" within the Jubilee spectrum of politics. Of the three Central Kenya old regions — Murang'a, Kiambu and Nyeri — only Murang'a has not produced a sitting President.
"They are talking about it openly. PK himself declared himself a Murang'a candidate and local leaders endorsed him as their pick. Should the people of Nairobi allow themselves to get caught up in that sort of a mix? Certainly not," Mueke said.