Go slow on TJRC talk in campaigns, elders urge Raila Odinga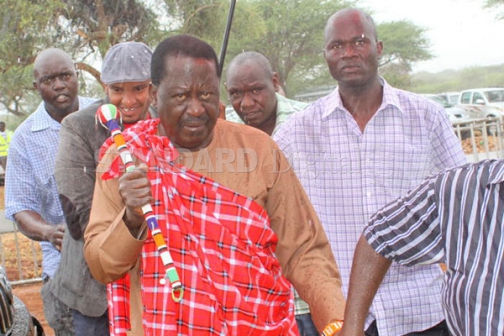 The Kikuyu Council of Elders has called on politicians to go slow on agitation for implementation of the controversial Truth, Justice and Reconciliation (TJRC) report.
In a statement, the elders also questioned CORD leader Raila Odinga's timing in calling for implementation of the report, warning that it could reignite animosity among communities ahead of the August General Election.
A resolution passed during the council's annual prayers meeting in Kirinyaga County, said Raila's constant use of the TJRC report in his campaigns was a recipe for sparking hatred.
The elders said repeated calls for implementation of the TJRC report to mitigate against historical land injustices against the Maasai community, was a ploy to gain electoral mileage.
"The Kikuyu community resolves that we will not tolerate any acts or utterances that could lead to bloodshed and destruction of life and property. We urge all Kenyans to reject incitement to violence and disorder for political reasons," the council organising secretary James Nene said.
Mr Nene is also the Council's chair for Nakuru branch.
The resolution was in response to statement by the CORD leader who repeated calls for implementation of the report during the burial of veteran politician John Keen in Kajiado County last week.
The former Prime Minister had made similar calls at the funeral of late Maasai political supremo William ole Ntimama last year, arguing implementation of the TJRC report would be a befitting honour for the fallen leaders' legacy of fighting for Maasai land rights.
The elders said the TJRC report conclusions and recommendations had been disputed and tainted with partisan political agenda and fell short of what Kenyans expected.
"The TJRC report is deliberately discriminative and partisan and we condemn politicians' attempt to use it to incite communities against one another," their statement read at the Kianyaga Stadium, said.
Among other things, the TJRC report recommended restitution and compensation for land based on historical injustices against communities whose land has since been acquired and settled upon by other communities over the years.
While the CORD leader's call for speedy implementation of the report is popular among the Maasai, critics argue that the recommendations amount to invalidation of the sanctity of title deeds as enshrined in both the Constitution.
The TJRC process has been dogged with controversy since inception when commission chairman Bethwel Kiplagat fell out with his vice chair, Betty Murungi, who eventually resigned, while the final report was also clouded with a bitter dispute when some commissioners disowned sections of the final report submitted to President Uhuru Kenyatta.