Why Western and Coast could decide who wins 2017 contest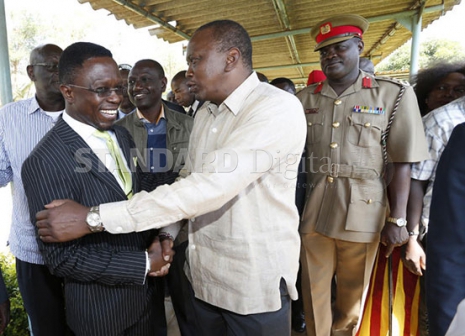 Western and Coast are shaping up as the main battlegrounds for Jubilee and the Opposition ahead of the August 2017 General Election.
The determination to win over Coast and Western votes is driven by realisation that the two regions could determine who wins the presidential election.
Jubilee has already unsettled the Opposition by "poaching" a number of big names who occupied top positions in CORD allied parties.
Among them are former ODM Secretary General Ababu Namwamba, the party's Chief Whip Gideon Munga'ro from Coast and former Bungoma ODM chairman Maj (rtd) John Waluke.
But the ruling coalition is not sitting pretty because ODM leader Raila Odinga has retained a firm grip on the coastal voting block, having recently captured the Malindi parliamentary seat in a by-election.
"Last time you voted for our opponents but this time, we are not going to let you go. We will be following every step you make and every corner you take until we get your votes. We will not let you go," Deputy President William Ruto told Bungoma residents last Thursday at a function attended by President Uhuru Kenyatta.
So intense is the competition that barely a day after Uhuru toured Western for two days and dished out goodies, Raila made an appearance yesterday accompanied by Mombasa Governor Ali Hassan Joho and his Kakamega counterpart Wycliffe Oparanya.
A source privy to the Uhuru campaign strategy says with their political strongholds secured, Jubilee now wants to split the votes in the two big voting blocks, not only to maintain its 'tyranny of numbers' but also reduce the Opposition strength in these vote-rich regions.
In 2013, Western was ranked sixth in vote-abundance behind Rift Valley (3 million votes), Central (2 million) and Eastern (1.8 million), Nairobi (1.4 million) and Nyanza at 1.7 million. Registered voters at the Coast are 1,198,216, Western has 1,616, 518 while Nyanza has 2,226,671, according to the latest IEBC records. In 2013, Mombasa posted a voter turnout of 67 per cent. Raila got 180,985 (70 per cent) of the votes while Uhuru got 64,793 (24 per cent). He defeated Uhuru in all Coast's five counties. In Western, the highest voter turn out was in Busia at 88 per cent. Raila got 86 per cent of the Busia votes against Uhuru's four per cent.
"They are convinced that the only way to retain power is to win over these regions. They are ready to spend any amount of resources to put footholds in the two regions," says political scientists, Paul Kerry Oduo. But the Opposition is also fighting not only to ensure a bigger voter turnout but also keep their strongholds under lock.
According to insiders, Jubilee is fighting to get at least 40 per cent of votes in Western and Coast to add to what they will harvest from strongholds of Rift Valley and Mt Kenya regions. While Ruto and Uhuru are optimistic their forays in Coast and Western will bear fruit, Opposition leaders claim CORD will carry the day in these regions.
Speaking in Luanda yesterday, Raila Odinga poured scorn on projects initiated Uhuru during his recent two-day tour of Western, saying none of them will take off.
Non-existent projects?
"They come with tractors to commission roads after which the machines are returned to where they came from. The projects stall because the government has committed itself on non-existent projects where money is lost," he said.
ODM Deputy Party Leader Hassan Joho says: "Let them make as many trips to the Coast as they can but nothing will change".
He told The Standard on Sunday that Coastal politicians were united more than ever before and would ensure opposition wins the next elections. President Kenyatta and his deputy William Ruto have made countless trips to the Coast and Western, while armed with goodies. They have been issuing title deeds, opening roads and switching on electricity in homes.
Just last week, the President was in Webuye where he witnessed the re-opening of the Pan Paper Mills which has been moribund for close to 10 years. He also recently gave Sh1 billion to the limping Mumias Sugar Company. But an optimistic Ruto told residents of Vihiga that he will go to any length to ensure they did not vote for the opposition in 2017.
"If you think I will leave you to vote for the opposition then you are mistaken. What will be my work if I cannot convince you to support the government? he asked.
ANC leader Musalia Mudavadi and ODM Deputy Party Leader Wycliffe Oparanya said Jubilee would not get votes in Western. They said the two are welcomed to pitch tent in Western Kenya for as long they wish because their assault in the Opposition stronghold does not worry them. Mudavadi, who has expressed interest in joining forces with opposition principals Raila Odinga, Moses Wetang'ula and Kalonzo Musyoka, said the foray was an attempt to blindfold voters from the reality that Jubilee had failed."Frankly, it is too little too late for the government to appease our people. There is no Jubilee project we can identify in this region over the last four years," said Mudavadi. He said the projects the two leaders were purporting to be launching were either started in the previous regimes or had been surrendered to private hands.
String of projects
"These people like jumping from one unsolved issue to another. When we complained over neglect of Mumias, they jumped to Trans Nzoia Sugar, claiming money was being lost there and before that could be addressed, now they have shifted to Pan Paper, a private enterprise. We are not fools," said Mudavadi.
He added: "We know those roads whose construction they keep commissioning have no budgets. The tractors go there when the President and his deputy are and leave with them. We are used to this tune, we heard it in the previous regimes."
Oparanya said whereas the region was open to anyone willing to sell themselves, the electorate was already determined on the kind of leaders they want. But Jubilee leaders led by CS Eugen Wamalwa dismissed the notion that Western is an opposition zone. "We have shattered the myth that Western belongs to the opposition," he said.
—By John Oywa, Dalton Nyabundo, Eric Lungai and Kepher Otieno