Garissa Town MP Aden Duale faces his toughest political battle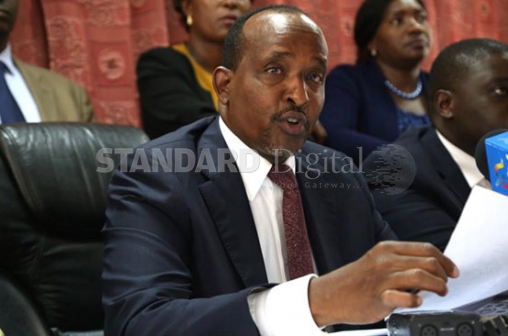 Garissa Town MP Aden Duale and former Deputy Speaker Farah Maalim are set for a bruising battle in the parliamentary race in the next General Election.
The two represent strong opposing political views and their encounter in the campaigns will spark high voltage and passionate duel that also marks a contest among the two big sub-clans in the Ogaden Darod of the Somali community.
Maalim comes from the Auliyahan and is seeking to unseat Duale who hails from the populous Abduwak.
In terms of political clout, Duale could be the current senior most politician in the Somali community, given his parliamentary position and as the chairman of the North Eastern Region parliamentary group.
On Tuesday, Maalim decamped to Wiper during the party's National Governing Council at the Kasarani gymnasium in Nairobi.
According to Aden Mohamed, a former civic leader, Maalim is seeking to capture the Kamba vote in Garissa Town.
"At least about 40 per cent of the votes belong to the Kamba community and the former National Assembly Deputy Speaker is angling to benefit from this votes," said Mohamed.
Until his defection, Maalim was the Chairman of ODM's Disciplinary Committee and a close ally of party leader Raila Odinga.
In his acceptance speech, the former Lagdera MP embraced Kalonzo Musyoka as the CORD's presidential flag bearer.
The Standard on Sunday has learned that there had been a series of private meetings between the Auliyahan community top leadership and CORD's that informed Maalim's move to Wiper Party.
Sugow Abdi, a local Auliyahan elder disclosed that they had resolved to consolidate the votes under one party and will have most of their sub-clan politicians running on the Wiper ticket.
"We want to retain the governor's, the county women representative and the Garissa Town constituency seats. We decided that we can only achieve this through the Wiper Party and that is why we asked the former deputy speaker do move," said Abdi.
The Kenyatta oath that shook Kenya
On the morning of June 9, 1969, the Rev John Gatu, now a retired moderator of the Presbyterian Church of East Africa (PCEA), received a rather unusual call from the Ichaweri home of founding President Mzee Jomo Kenyatta.