Raila Odinga warns Jubilee of looming 2017 revolution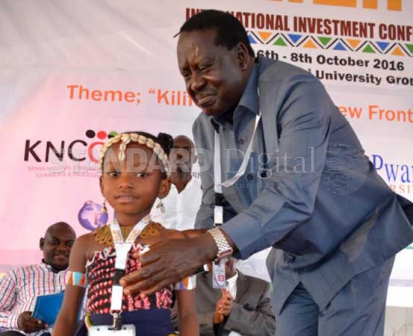 Orange Democratic Movement (ODM) leader Raila Odinga yesterday warned the Jubilee administration of a looming revolution as a result of marginalising some regions.
Speaking at the inaugural Kilifi International Investment Conference in Kilifi County, Raila said the country was ready for "a revolution" to remove Jubilee from power.
"It is a new dawn and I ask all the youths in the country to acquire national identification cards and register as voters to become Agwambo's soldiers," Raila said.
HISTORICAL INJUSTICES
He said the Jubilee government was unable to implement policies to reverse decades of backwardness and marginalisation.
The former prime minister claimed special interests and ideologies held by certain individuals within the current administration had impeded the implementation of the Truth, Justice and Reconciliation Commission report, which he said captured the historical development of Kenya's socio-economic crisis and also offered solutions.
He said marginalisation of Coast, North Eastern, Upper Eastern, Western and Rift Valley regions could be traced to Sessional Paper Number 10 of 1965, which was the blueprint for Kenya's development and planning based on African socialism.
He said Coast region was the heartland of marginalisation and historical land injustices due to bad government policies.
The opposition leader said one of the key recommendations in the TJRC report was the establishment of the Equalisation Fund for socio-economic development of marginalised areas.
He said Kenyans were tired of shouldering the burden of corruption and bad governance and called on the youth to join him in removingthe Jubilee administration from power.
Waste of funds
He criticised both the national and county governments for wasting funds and questioned the source of millions of shillings donated by Jubilee leaders across the country.
He also called on the counties to fight the corruption and bureaucracy that kept investors away.
Raila said devolution was still facing threats from forces keen on returning the country to a centralised system of governance.
He criticised Members of the County Assembly and some governors whom he accused of globetrotting under the pretext of benchmarking and bonding.
"We hear that there are 20 MCAs in Korea or India for benchmarking and others on bonding missions in Dar es Salaam. That is a sheer waste of resources," he said.