Give Coast residents back their land, Raila tells Jubilee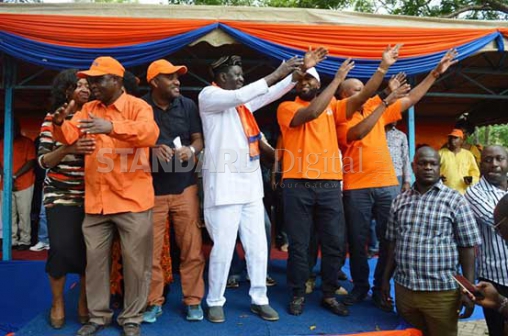 CORD leader Raila Odinga took his calls for the implementation of the Truth, Justice and Reconciliation Commission (TJRC) report to Kwale County, arguably the heartland of grave land injustices in Kenya.
In a well-choreographed "TJRC" message which he, Mombasa Governor Hassan Joho and Kilifi's Amason Kingi delivered in doses, Raila roused locals, reading parts of the TJRC report and declaring that Jubilee cannot implement it.
In a huge political rally held in Kwale, a stone's throw away from Governor Salim Mvurya's office, Raila urged Coast residents to insist on the return of "dispossessed Coastal lands."
He said the piecemeal issuance of title deeds was not enough.
"The game-changer for you is not the titles you are receiving for the small pieces you own individually. The game-changer is the restoration of huge parcels of land taken away from you by Arab rulers, the British and later the black colonialists who came after them," Raila said to wild cheers from the agitated crowd.
Reading from the report, the ODM party leader condemned the fraudulent land transactions that have taken place with regard to Coast lands since independence and demanded revocation of all these transactions. He also demanded the opening up of all beach access lands.
Raila said although President Uhuru Kenyatta was given the report in May 2013, he has not acted on it "because he lacks the will to do so".
"They cannot claim to implement the report in injury time. They will never do that and that is why we must remove them from power through the ballot next year. We not only have the solution, we have their medicine too," he said.
When Joho's turn came, he dealt with historical economic marginalisation of the Coast region. He said the area's resources — long beach front, minerals and port facilities — have not resulted in meaningful benefits for the region.
He claimed the upcoming Standard Gauge Railway is yet another plan to limit port operations and move them further into the mainland. He asked locals to brace themselves for job losses once the construction of the railway is complete.
"The plan is to make you poor so that you have to keep begging them when they come over. Open your eyes right now and make your voice heard," Joho said.
When he took the microphone to speak, Kingi picked from where Raila had left off and reiterated the grievance of landlessness in the Coast region in general and Kwale in particular. He recited the history of dispossessions in Coast in various periods of history.
"Our people ran away from slavery and hid in Ukambani. When they came back after missionaries fought and stopped slavery, they found their land all gone from Vanga to Lamu. At the Lancaster talks, Mzee Kenyatta did not help matters. In a hurry to get the presidency, he signed into an unfair land regime that has impoverished our people for decades," he said.
Kingi reminded Kwale residents that their main representative at the Lancaster talks, Ronald Ngala, rejected the deal and insisted on clauses that would have redistributed land at the Coast. He said the various violent movements that have sprung up at Coast, including MRC in the recent past, and Kaya Bombo in the 90s, were due to grievances over land.
"All they want is their land back. A deaf person doesn't talk but I dare you, if you push them to the wall, you will hear some sound. And when you hear that sound, you should know things are not good," he said.
Speaker after speaker condemned Mvurya for ditching ODM and sang farewell songs for him. Led by Joho, they said the Coast region's assured route to redemption was through ODM and Raila.
"Do not be deceived. Stay with your people, otherwise after the ballot defeat, you will be dumped just like the rest—the likes of Kambi Kazungu. Look at Chirau Mwakwere, of all the jobs they have dished out, they only saw him befitting an ambassador? Bure kabisa!" Joho said.
In the rally, Raila dismissed the merger of Jubilee parties and condemned the spiralling public debt.
He dismissed claims of a fallout in CORD affiliate parties and asked coalition supporters "to rest assured" that nominations would be done fairly.
Senators Stewart Madzayo, Boy Juma Boy, Agnes Zani and Elizabeth Ongoro addressed the rally together with area MPs and aspirants.
A total of six aspirants for the governor position were introduced to party supporters at the rally. Joho said one of them will fly the ODM flag and beat Mvurya.