Ababu's silence raises questions on 'Third Force'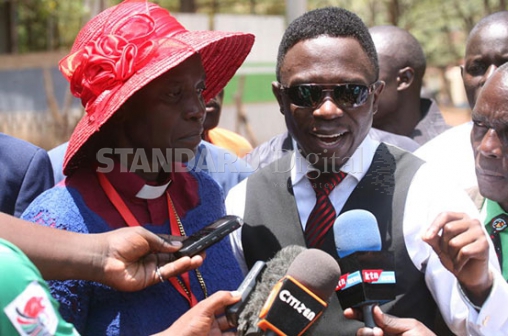 The gusto with which ODM rebel MPs from Western formed the so-called "political third force" appears to have hit headwinds.
Sirisia MP John Waluke, who together with his Budalang'i counterpart Ababu Namwamba, had indicated they would spearhead formation of the third force was among the defectors paraded at Kasarani stadium during the launch of the Jubilee Party.
"I made up my mind long time ago to join Jubilee and I am here to affirm that position," Waluke told Jubilee Party merger meeting at Kasarani on Friday.
Yesterday, Namwamba was neither at Kasarani nor Mombasa where ODM was celebrating its 10th anniversary.
The two had earlier indicated that their new political outfit was to be unveiled by end of last month.
Funyula MP Paul Otuoma's recent announcement that he was prepared to work with ODM again means Namwamba, who resigned as the party Secretary General, has been left alone.
Just like the Budalangi MP, Otuoma also resigned as ODM vice chairman, citing frustration.
In a telephone interview with The Standard on Sunday last month, Namwamba said arrangements to launch the new outfit were in top gear and that the event was to take place in Nairobi because of its national importance.
"The movement is not about Namwamba, it brings on board many political actors and has a complete and functional technical team currently working on final touches ahead of the launch," he said.
He revealed that a technical team was to work out on a detailed progaramme of the scheduled event which would entail among other things the date for launch, invited guests, venue and other necessary information.
In a previous interview, Namwamba had said the Third Force would provide Kenyans with an option besides Jubilee and CORD.
"Our singular focus is on our mission. We have no time to waste on clueless detractors whose opinion does not count anyway," he said. "We want Kenyans to have diverse options instead of being forced to choose between the two major parties a move that could be divisive," he added.
Yesterday, he updated his Facebook page with photos of himself and outgoing Japanese Deputy Ambassador to Kenya Mikio Mori in the former's office in Nairobi.
"This afternoon (Friday) at the Japanese Embassy in Nairobi, I bid farewell to Ambassador Mikio Mori who departs Nairobi next week after three years as Japan's Deputy Ambassador to Kenya. Ambassador Mori has been a fine friend who has contributed immensely to strengthening ties between Japan and the people of Budalang'i Constituency," read part of the post.
Top ODM leaders wasted no time dismissing Namwamba's plans, saying the 2017 polls will be a two-horse race between President Uhuru Kenyatta and CORD leader Raila Odinga.
"The Luhya community should reject leaders who are interested in auctioning the community for their personal interests. We should have a firm political stand and stop being sold cheaply," said Kakamega Governor Wycliffe Oparanya.