I am innocent, EACC's deputy CEO Mubea says in Sh50.4m suspected NYS fraud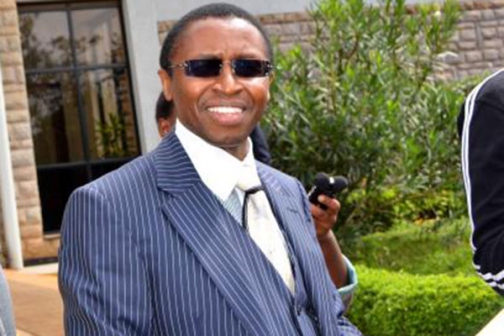 NAIROBI: Revelations that a law firm previously associated with a senior anti-graft commission official received Sh50.4 million from a law firm associated with a key National Youth Service (NYS) suspect has sparked further confusion at Integrity Centre.
A bank transfer document obtained by The Standard on Sunday appears to support claims by activist Okiya Omtatah that the money was paid to Michael Daud & Associates Advocates, a law firm previously co-owned by current Ethics and Anti-Corruption Commission (EACC) deputy CEO in charge of operations Michael Mubea.
The money was paid out to the law firm on April 14, 2015 by the law firm of Ogolla and Company Associates for the purchase of property for Charity Gethi, the mother of the main NYS scam suspect Ben Gethi.
Gethi, his mother Charity, two of his kin and lawyer Patrick Ogolla are in court, charged with money laundering relating to proceeds of the Sh791 million NYS scam.
The revelations came only a day after Omtatah moved to court to block EACC commissioners, EACC CEO Halaqhe Waqo and Mr Mubea from pushing for the exit of beleaguered chairman Philip Kinisu.
On the other hand, Omtatah's suit came a day after the EACC commissioners and senior Secretariat officials, including Mubea, called on Kinisu to quit over conflict of interest case involving his wife's company and NYS.
Thursday's "EACC call" on Kinisu to quit smacked of last nail on his coffin until Omtatah came to his rescue. On the same day (Thursday), Gethi, Ogolla and the other NYS chief suspect Ms Josephine Kabura lost a chance to block their prosecution over money laundering charges. They are expected to be charged on August 15 at the Milimani Law Courts.
The Sh50.4 million was paid through K-Rep Bank into Chase Bank account of Mubea's ex-law firm two months before the NYS scam exploded. The scam exploded in June 2015 when former Devolution CS Anne Waiguru wrote to the Banking Fraud Unit to investigate alleged theft of a crucial password, which was used to over-commit the ministry. Yesterday, Mubea told The Standard on Sunday that some unnamed people were trying to drag him into the scandal with the view of slamming his brakes against investigations. He said he will neither be distracted nor moved by the claims.
"I worked at the law firm until 2013 when I resigned to join the EACC. I do not know what happens at the law firm any more, since my job at the EACC is a full-time job, unlike for the commissioners who are part time," Mubea said.
Kabura's affidavit
Shortly after Kabura's affidavit went public, the EACC wrote to Director of Public Prosecutions Keriako Tobiko, asking him to terminate money laundering charges against Gethi and Kabura until investigations on the claims made by Kabura in her affidavit are completed. The DPP however declined, saying he was satisfied with the evidence he depended on in directing their prosecution.
Mubea, nevertheless, admitted to The Standard on Sunday that he was aware that the Sh50.4 million was paid to the law firm:
"I called to ask after these claims were made. I was made to understand that indeed the money came through and that it was for a property transfer in respect of one of their clients. That's all."
Without elaborating, he said from the way the claims were framed and from recent events, "it's clear who is the mastermind behind the claims". He also swore he has never benefited from the NYS loot and that he will continue to "investigate the theft with same zeal as before".
"The law firm is not denying that the money went through them. You can ask them and they may even provide you with all the necessary documentation. Personally, I do not wish to be associated with the payment because it has nothing to do with me," Mubea said.
Asked why he would be linked to the payments if he had not benefited, Mubea retorted, "I used to be there and I do not think that's an offence. Perhaps the best person who can explain why this is coming out and in this manner is the master himself, the fellow behind it all."
On Saturday, a newspaper carried the headline "Omtatah to the 'rescue' of Kinisu in NYS saga". Lawyer Nelson Havi celebrated Omtatah for coming to the rescue of a besieged Kinisu. "Good job Okiya Omtatah for coming to Kinisu's rescue. This is a clear case of some individuals at the EACC sacrificing an innocent man to dodge vetting. Those individuals are well known. They fixed Matemu when he blocked a deal to free Anglo Leasing suspects," Havi wrote on his Facebook page.