Musalia Mudavadi, Moses Wetang'ula can't agree who to lead regional unity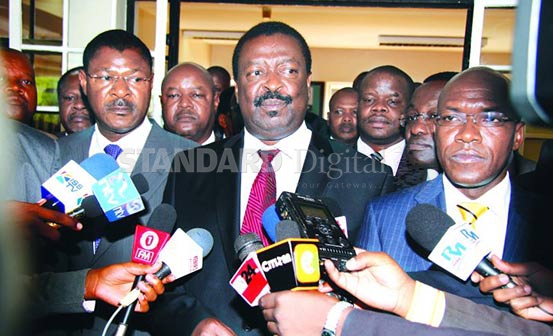 Western Kenya leaders have in the past week engaged in public spats over previous failed attempts to unite the region.
This confirms that just like in the past, the leaders are not yet ready to back one of their own to vie for the presidency in the next polls.
A section of local political leaders are now pointing fingers at Amani National Congress leader Musalia Mudavadi, whom they have accused of playing lone ranger tactics.
Bungoma Senator Moses Wetang'ula and his Kakamega counterpart Boni Khalwale have claimed that Mudavadi appears to be non-committal to join other political giants, particularly Wetangu'la in a bid to form a formidable force ahead of 2017 General Election.
In a funeral in Malava Constituency last weekend, Khalwale said Mudavadi has been hesitant about working with Wetang'ula and Jirongo. "I have urged Mudavadi to work with Jirongo and Wetangu'la but he is evasive. There is need to work as a community and develop a common agenda, otherwise we should forget about the presidency," Khalwale said.
Wetang'ula echoed Khalwale's sentiments and challenged Mudavadi to support his presidential bid.
Mudavadi, who has clarified through his spokesman Kibisu Kabatesi that he is is ready to work with other leaders, has however, dismissed Khalwale's claims, which he said are "ill intended and misleading".
Jirongo has told Wetang'ula to quit CORD if he is serious about the Luhya unity quest. "You cannot start a dance when singing someone's song," Jirongo maintained.
He maintained that the Western region must form a super political outfit that will incorporate all local leaders to enable them bargain with other players before elections.
Even though Wetang'ula has indicated that he is ready to drop his bid in favour of whoever emerges stronger among them, he maintains he is in CORD to stay.
According to Western Parliamentary Caucus Chairman Sakwa Bunyasi of the United Democratic Front Party, leaders are consulting widely on how to bring the big players together.
The Nambale MP said the caucus will keep discussions over the matter under key and lock.
"It will be premature to disclose our discussions before arriving at satisfactory conclusion," he told The Standard on Sunday on Phone.
The Caucus Secretary Malulu Injendi and Malava MP (Maendeleo Democratic Party) also pronounced that they will soon meet in Kakamega to continue with their deliberations over the matter.
Funyula MP Paul Otuoma (ODM) observed that leaders the leaders must engage in constructive issues and focus on the welfare of the community.
Political analysts have also weighed in on the matter, saying it is not too late for the leaders to forge unity. "It is paramount for them to move with speed and have the region point man picked among them," said Barrack Muluka.