Kanu not part of IEBC protests, says nominated senator Zipporah Kittony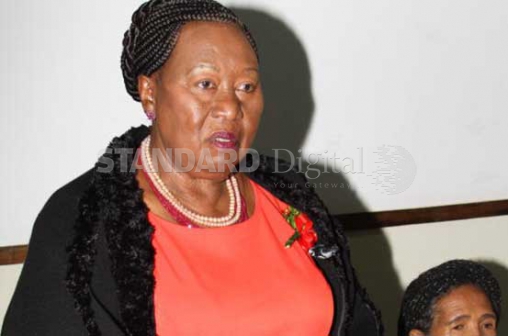 A nominated senator from Kanu has distanced the party from the ongoing Opposition demonstrations.
Senator Zipporah Kittony yesterday dismissed her party's involvement in the anti-Independent Electoral and Boundaries Commission protests (IEBC) led by CORD, saying it was not a collective agreement.
"As a long-serving member of Kanu, I want to disassociate my party from the protests. As much as our secretary general was spotted among the demonstrators, his decision was at a personal level," said Ms Kittony.
The senator insisted that the presence of Kanu Secretary General Nick Salat in the Monday protests should not be generalised to mean the whole party had joined in the demos.
"If our party leader was seen together with CORD leaders, then it is just by default. What happened in the demo was purely on personal grounds," she said.
During the Monday protests, police lobbed teargas to disperse demonstrators and Mr Salat was among them.
Noting demonstrations are not the best way to solve issues, Kittony asserted that dialogue is important and that all warring parties should strive towards that.
"It is true IEBC has made some blunders and mistakes. But the only way to solve these mistakes is at a round table," she added.
Kittony was speaking during a funds drive at the Kenya Girl Guides Association offices in Nairobi.
The event sought to raise Sh4 million to build a dormitory in Kimalel, Baringo County to facilitate the girls' campsite and training centre.
The senator, who is also a member of the Senate Health Committee, confirmed the completion of deliberations on the Health Bill. "And we have proposed several amendments, which will be subjected to public scrutiny before being passed by the Senate," she said.
Kittony said some of the major amendments are ensuring hospitals are funded according to their status. "For example, we need all level-five hospitals to really look like level-five hospitals. This will be done through the right funding and equipping the hospitals with the right facilities," she said.