Jubilee MPs urge court to block protests against IEBC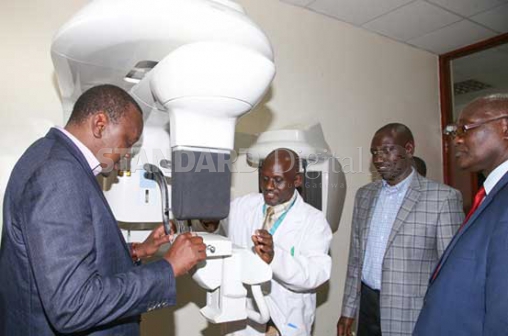 President Uhuru Kenyatta sustained the attack on Opposition leader Raila Odinga and his team over planned countrywide protests at the national electoral body's branches to pressure its commissioners to vacate office.
As the President attacked Raila arguing he was breaking the law and misusing innocent youths to fight his wars, five Jubilee Members of Parliament plan to go to court to try and block his protest rallies claiming they go against the Constitution.
At the same time the Inspector General of Police, who takes orders from the President, gave the surprise order that VIP protection officers who escort their bosses to illegal demos and gatherings would be sacked immediately.
This raises the question of what this means given that the security crews and the police in general are responsible for the safety of senior public officers no matter where they are.
For the fourth time this week, and thrice on his Kisii tour, the President declared: "You can demonstrate as long as you want but I will not break the law like you. The Constitution is clear and if I push them out they will take me to court and they will be reinstated," said the President in reference to calls to help disband IEBC team.
On his Kisii tour, the President warned Raila against countrywide protests saying that the Government would not condone violent demonstrations and destruction of property.
"There is no Kenyan who is above the law and we should all be agents of following what it says. We will not accept this act of breaking into offices," President Kenyatta said on Wednesday.
In response, Raila said: "We will not be cowed by threats.
"We believe we are operating within the law and if anyone thinks we are breaking the law he should mention the specific law."
Police boss Joseph Boinnet warned police officers attached to VIPs that they would be sacked if they accompanied them to "unlawful protests."
restrain CORD
The IG's directive immediately sparked furious reactions from CORD leaders, who claim it was an attempt to intimidate them to stop their planned weekly protests to occupy IEBC offices.
Yesterday, High Court Judge Isaac Lenaola directed the five Jubilee MPs to serve the respondents and return to court today for hearing.
The five are Moses Kuria (Gatundu South), Dennis Waweru (Dagoretti South), Ferdinand Waititu (Kabete), Kimani Ichung'wa (Kikuyu) and Alice Ng'ang'a (Thika).
Through their lawyer Harrison Kinyanjui, they are seeking orders to restrain CORD from storming and interfering with the operations of IEBC offices countrywide. Under a certificate of urgency, they also want CORD officials barred from intimidating IEBC commissioners.
They also want CORD to abide by the law in lodging any complaint regarding any IEBC commissioner.
They claim CORD has not demonstrated that IEBC has failed to uphold its constitutional and statutory mandate, and yet they all took part in the recent Malindi by-election, in which they accepted the results announced by the same body.
They claim nothing is in the public domain to demonstrate that IEBC has exhibited a lack of independence, especially in its preparations for next year's elections. They say CORD officials violated the law by storming IEBC offices.
The MPs also claim that the call for the removal of the commissioners through picketing and demonstrations violated the Constitution.
Mr Boinnet told the officers to discharge their duties in strict conformity with the law and service standing orders.
"Any officer who accompanies any VIP in any situation that may be in breach of any law will be held equally culpable and will be liable to severe disciplinary sanctions that may include dismissal as well as court action," said Boinnet.
-Report by Faith Karanja, Cyrus Ombati, Rawlings Otieno and Moses Nyamori