kenyan governors want criteria on sharing revenue anchored in Constitution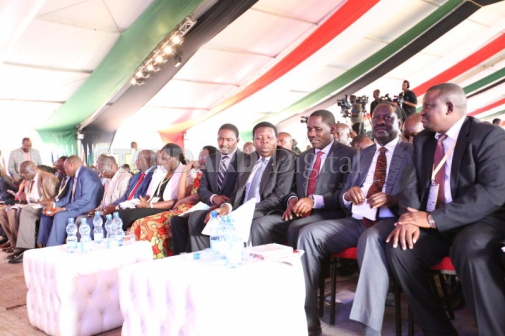 The devolution conference ended yesterday with 16 resolutions aimed at getting more resources from the national government.
The resolutions read by Council of Governors vice chairman Salim Mvurya, call for incorporation of the criteria of sharing revenue in the Constitution.
The conference said the revenue sharing criteria should be clarified with regard to national interest and obligations and that all stakeholders should henceforth engage proactively. "A long-term funding framework mechanism for counties should be established in the Constitution," another resolution read.
The governors also want the National Treasury to ensure timely disbursement of funds and progressively increase revenue to the counties.
The meeting also called for restructuring of state corporations in charge of devolved services to align them to the devolved system of government.
Governors demanded a review of the agreement on transfer of devolved functions especially the Immunisation Programme at the Ministry of Health.
And demands to have the function of the Kenya Medical Supplies Agency (Kemsa) devolved is likely to set the the governors on a collision course with the national government.
They argued that the agency, which sources and supplies medical supplies to public hospitals, was purely serving institutions controlled by county governments and should therefore be made an inter-county function. The governors also laid claim to government corporations in agriculture and other devolved sectors which they said should be restructured to align to devolution.
To ease pressure on relations between the two levels of government, the meeting called for increased financial and technical capacity from the coordinating arm - the Inter Governmental Relations Technical Committee (IGRTC).
The IGRTC was also mandated to audit all state corporation that are in charge of devolved functions including those that deal with rural and urban roads, agriculture and livestock sectors.
ADDRESS INEQUALITIES
They called also for automation of the office of the Controller of Budget. Governors committed to address inequalities threatening counties stability, to increase allocations and say of women and youth in critical sectors such as health and agriculture and to restructure their civil education and public participation framework to conform to the national government.
The governors also resolved to embrace electronic platforms for revenue collection.
Delegates called for decisive approaches to eradicate corruption in the counties.
They called for commitment by the political class and citizens to fight the vice. Governors dispelled the notion that graft in counties is perpetuated by them.
Instead they have called for sobriety in dealing with the matter and not using anti-graft agencies to target specific governors perceived to be 'out of line'.
But the main concern in the war on graft is the government's funding of investigating agencies like Ethics and Anti-Corruption (EACC), which according to the chairman Philip Kinisu has seen many cases flop.
"We are changing the approach on this fight however we are grossly under resourced. This has happened in many investigations leading to incomplete files, resulting in cases not going to conclusion, " disclosed the chairman.
He added, "An agency that requires 2,000 staff only has 400. This under capacity has consequences on our output. We need to increase the workforce to serve Kenyans better."
He stressed that this can only be addressed through capacity building by national and county governments.
"If we are better sourced, we will even be in a position to carryout lifestyle audit of those under probe," he said.
Other organs such as the Judiciary also faulted the investigation process, stressing that a lot of cases are acquitted as a result of 'artificial' technicalities.
Duncan Okello, who represented Kennedy Bidali of the Anti-Corruption court, noted that the Chief Justice has gazatted the special division to expedite corruption cases, including application of bails and bonds and increase magistrates from three to 13.
But he regretted that cases collapse because of incompetence and this is deliberate.
"The incompetence is artificial. It is designed to let people off the hook. The court are the last stop in corruption prosecution and therefore if the cases are not properly investigation the chances of acquittal are very high," he said.
He urged the public to undertake the overall watch on matters corruption. Further, governors also cited victimisation by the national government and bad laws as a hindrance in the graft war.
Governors affirmed county governments collaboration with investigating agencies, contrary to public perception that they don't.
Migori Governor Okoth Obado urged Kenyans to also demand accountability from all leaders and not to be dragged into personal war of fixing others.
Interior CS Joseph Nkaissery in a speech read on his behalf by Amos Ketheshia also demonised corruption, saying, " It is abuse of entrusted power or public office for private gain' which his office can not afford to take lightly.
George Kerogo, who represented the civil society, called for accountability and transparency.