Raila's absence at Wetang'ula rally raises queries over CORD unity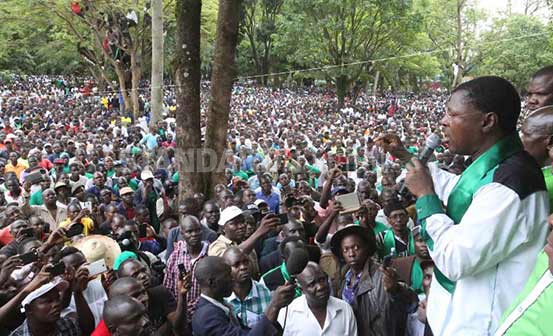 The unity that has prevailed in CORD was rocked by the ugly violence that disrupted Ford Kenya leader Moses Wetang'ula's grand launch of his presidential bid in Kakamega, as the absence of co-principal Raila Odinga raised weighty questions.
Leaders in the coalition and political pundits feared for tough times ahead as they drew parallels with similar chaos that have rocked the Opposition in the past.
But it was the absence of the former the Prime Minister, a key leader in the coalition, that made observers argue that all was not well in CORD.
Speaking to The Standard on Sunday last evening, Wetang'ula sounded very annoyed as he blamed the chaos that caused mayhem at the meeting for 20 minutes on Kakamega Governor Wycliffe Oparanya.
"Oparanya is the one who had planned the disruption of my meeting but I must thank the thousands of my supporters who remained resilient despite the chaos caused by the hooligans," said Wetang'ula.
But he also could not explain why Raila skipped the function that had been moved ahead from last month to allow his CORD co-principal and Wiper leader Kalonzo Musyoka to attend.
The Senator was at a loss as to why Raila skipped the event, saying he had earlier spoken to him on his cellphone from Golf Hotel as they prepared to head to the function with Kalonzo, scores of MPs and supporters.
"Let me not read so much over his absence, but I and Kalonzo spoke to him. Raila told us he was in Kisumu with Oparanya and they were on their way to Kakmega before he leaves for Mwanza in Tanzania," said Wetang'ula.
Efforts to reach Raila failed as his phone went unanswered. The ringing tone however indicated that he was outside the country.
Wetang'ula asked Oparanya to take responsibility for the injuries people suffered at the rally, including what happened to senior statesman Joseph Otiende, 99, who served in the first post-independence cabinet.
"It is so sad that they hurled teargas canisters at the dais where Mzee got injured, while an MCA from Siaya broke her leg," he said.
It also puzzled those who attended the charged rally that civilians came to the venue with teargas canisters.
Wetang'ula demanded an explanation on how teargas canisters landed in the hands of civilians.
Asked to comment on the latest troubles in CORD, Prof Macharia Munene, who teaches history at the United States International University, said: "CORD is Raila and Raila is CORD. If you remove Raila from CORD, it will die. What remains is, who between Kalonzo and Wetang'ula will be his running mate," Munene said.
The don said Wetang'ula will find it hard to become the de facto Luhya leader.
"There is inherent rivalry between Kakamega and Bungoma. That is why ODM was not happy when he came to Kakamega. He is trying to be the Luhya unifying voice but can't," Munene said.
Alternative leadership
However, Dr Adams Oloo of the University of Nairobi termed yesterday's events normal.
"CORD is having a problem with popularity. People fight over something that is good."
Jubilee coalition leaders quickly condemned the chaos witnessed at launch, with Elgeyo Marakwet Senator Kipchumba Murkomen laughing at "another example" of why CORD should not be given a chance to lead the country.
"The opposition has failed to demonstrate to the nation that they can offer alternative leadership. They should focus on internal democracy and stop blaming Jubilee," Murkomen said.
Raila's relationship with Western Kenya politicians has always yo-yoed between the two extremes of friend and foe, as the former Prime Minister has always, from time to time, faced some form of opposition from the house of Mulembe leaders.
And each time, the fallout has resulted in near catastrophic chaos.
It all began with the vacuum created by the death of Jaramogi Oginga Odinga in 1994, which led to a power struggle between Raila and former Vice President Michael Kijana Wamalwa.
Differences between them let to a chaotic National Delegates Conference meeting at Thika stadium that aborted and left many people injured before Wamalwa was later elected party leader.
That proved to be the last straw on the camel's back as soon after, Raila, accompanied by a host of sitting legislators from Luo-Nyanza, left to join the National Development Party.
The two went into the elections separately, coming in third and fourth in the polls.
In 2011, with the General Election fast approaching, ANC leader Musalia Mudavadi became fidgety and agitated within the orange party, complaining that the party constitution had been changed clandestinely to favour of Raila.
"Some people in ODM put road blocks every time we made progress. I have no chance of winning presidential nominations in ODM," Mudavadi was quoted at an April 2011 function in Kakamega.
He was unhappy that the party had submitted compliance documents to the registrar of political parties without first amending a section that stated that the party leader would get automatic nomination to be the presidential flag bearer.
Mudavadi bolted to the United Democratic Front.
Wetang'ula sits at the CORD poker table with a considerably smaller bag of chips than his immediate rival, Kalonzo. Unlike Kalonzo, he does not hold a near total grip over the Luhya vote. Pockets of defiance from Mudavadi's ANC and Eugene Wamalwa's New Ford-Kenya continue to pose a problem.
"Wetang'ula has always been an underdog in the CORD coalition and he might use this chance to raise his stakes," political analyst David Makali says.
It is not also clear if Oparanya is being used to frustrate Wetang'ula or if he (Oparanya) is scared that Senator Boni Khalwale, a close Wetang'ula ally, could mount a bigger challenge to unseat him as governor on Ford Kenya party ticket.
"He should not expect his competitors to be generous to him. They will come after his block," said Makali, a journalist and politician.
He said Raila will do all in his power to gain direct access to the western block.
"It will be much easier for the party leader not to deal with any king," he said.
But his rivals know that Wetang'ula is a very ambitious politician, who also has marshaled resources and is capable of mounting a big challenge on any given day.
Murkomen said Khalwale could have hijacked the occasion for his personal gains.
"Khalwale is jumping from one party to another. He is now in Ford Kenya and will make CORD break up. He used the occasion to marshal support for his gubernatorial fight with Oparanya," Murkomen said.