Leaders prepare for ODM nomination battle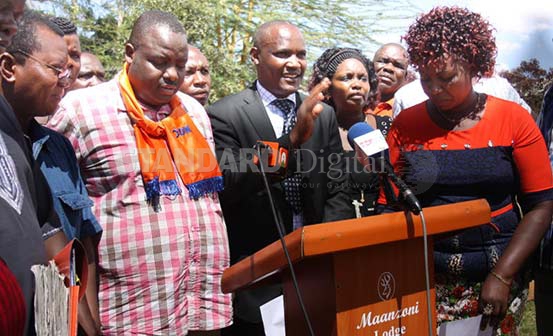 Even before political parties that hold sway in Nyanza have announced their nomination procedures, behind the scene manoeuvrings are getting more pronounced with potential candidates not hiding their interest to contest for various county governorship positions.
With 498 days to go before the 2017 General Election, some candidates have publicly stated that they will seek their parties' nomination to contest the region's six gubernatorial seats.
So eager are they to be nominated that these potential aspirants — some of them MPs and Senators — have started early campaigns. Whether these campaigns will be useful is another matter altogether because it is not clear which parties will use universal suffrage, collegiate nomination by delegates or selection by an electoral board. Nomination of candidates has always been controversial in Nyanza where the Orange Democratic Party holds sway.
For instance, one county, Nyamira, has at least 10 potential aspirants who will seek nomination in their quest to replace incumbent John Obiero Nyangarama.
Political analyst Adams Oloo says dethroning incumbents is often more difficult owing to the resources and experience they have acquired during their time in office.
"The incumbents have the resources and infrastructure to win a re-election, including ward administrators who can sell their message to the lowest level," says Dr Oloo.
Yet in previous elections, especially before the devolved structure was introduced, incumbents largely struggled to hold onto their seats.
In Kisumu County, Governor Jack Ranguma will be trying to seek nomination knowing that other political heavyweights such as Senator Anyang' Nyong'o, Dr Hezron Mc'Obewa and Kisumu Deputy Governor Ruth Odinga are also keen on getting the slot.
If ODM adapts the universal suffrage approach during the nominations, Oloo believes that the clan factor may determine the next governors in Luo Nyanza. In Kisumu, for instance, the populous Kano clan may hold sway.
Both Ranguma and Mc'obewa are from Kano. Nyando MP Fred Outa, who comes from the same clan, has declared his support for Nyong'o nomination, even though the senator is from Seme.
The Odinga factor cannot be overlooked, with Nyong'o and Mc'Obewa yet to name their running mates hoping to entice Ruth.
In Migori, Governor Okoth Obado, who was elected on a People's Democratic Party ticket, has taken it that he is the presumptive nominee in ODM and views Prof Akong'o Oyugi as his mail rival. In reality, the party could nominate former Sports Minister Ochillo Ayacko or Anne Anyanga as its candidates who would then take on candidates nominated by other parties.
If universal suffrage were to be adopted as the method for determining the nominee for Migori, ethnicity could become a factor.
Here, the minority Kuria community is believed to be influential and its no surprise that the deputy governor's position is currently held by Charles Nyamohanga.
Siaya Senator James Orengo is reported to be eyeing the ODM nomination for the Siaya gubernatorial seat currently held by Cornel Rasanga. Rarieda MP Nicholas Gumbo and former Regional Development PS and Siaya County ODM Secretary Carey Orege may also seek the Orange party's nomination.
William Oduol of the National Agenda Party, who has lost to Rasanga twice — first in the March 2013 polls and later in a by-election held last October following a court petition — has also announced that he will seek the ODM nomination.
"I contested against both Rasanga and Oburu and I am not going for anything less than the governor's seat in the 2017 elections," said Oduol. Homa Bay Governor Cyprian Awiti will also seek ODM's nomination and businessman Sammy Wakiaga and Kasipu MP Oyugi Magwanga are viewed as his main rivals.
In Kisii County, Governor James Ongwae will seek probably seek ODM's nomination. Others reportedly interestedly for the governorship are South Mugirango MP Manson Nyamweya, lawyer Patrick Lumumba and Senator Chris Obure, the current ODM chairman in Kisii County. Another name being bandied about is former Constitution Implentation Committee chairman Charles Nyachae. The potential aspirants for the Nyamira governship include Dr Erneo Nyakiba, Charles Mochama, lawyer Dennis Abincha, Jomo Kenyatta Foundation chairman Walter Nyambati, former Kitutu Masaba MP Mwancha Okioma and incumbent John Nyangarama. The others are Tom Otuto, Peter Ondieki, Evans Misati, Fred Machana and Kinaro Ndubi.