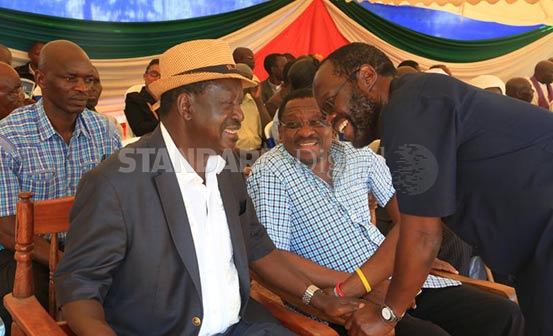 CORD leader Raila Odinga has said the Opposition would launch a campaign to have members of the Independent Election and Boundaries Commission (IEBC) thrown out.
Raila, at the same time, backed Bungoma Senator Moses Wetang'ula's quest to launch his presidential bid on April 2, and said the launch had also received the support of the Kakamega governor
The CORD leader reiterated that IEBC had lost credibility. "I'm transforming Okoa Kenya into Okoa IEBC (save IEBC) so that we can have an independent umpire at the General Election who can serve interest of voters."
And in reaction to the commission's decision to reject Okoa Kenya's list of submitted signatures to kick of a constitutional referendum exercise, the CORD leader said they would remain unbowed.
"What IEBC did was an insult to the intelligence of Kenyans. Without a template of the specimen signatures it could not dismiss the register filed by CORD demanding for a referendum. Our spirit cannot be killed by IEBC and now we train our guns on the commission," Raila told mourners at the funeral of former Cabinet Minister Wilson Ndolo Ayah in Kitambo village, Seme constituency, Kisumu County, yesterday.
Read More
The former Prime Minister dismissed the commission's explanation in regard to the rejection of signatures. "How can IEBC question personal signatures without having a specimen? Are these people you want to trust with another election?"
"IEBC is supposed to be a servant of the people not a partisan body listening to one side. We are prepared to fight for suffrage rights of Kenyans.
Kisumu Senator Anyang' Nyong'o said even if the signatures were drawings of a cow, they were still valid.
Plagued by graft
He said CORD was prepared to wrest power from Jubilee whose tenure has been plagued by graft, tribalism and nepotism.
"Power does not come easy. Neither do we want to be given power. We will campaign and stay the course of reforms and devolution. With a non-partisan umpire we will deliver victory," Raila said.
He maintained that CORD co-principal Moses Wetang'ula's presidential bid launch slated for April 2 in Kakamega town will go on as planned.
Addressing a press conference at his home in Opoda Farm, Bondo Constituency Raila dispelled fears that the Bungoma senator's presidential ambitions would weaken CORD. He called on CORD supporters to attend the rally and promised to make a major announcement.
"We have had lengthy discussions with Kakamega Governor and resolved to allow Mr Wetang'ula to launch his presidential bid as scheduled. We will also make public our future plans after the IEBC sabotaged our Okoa Kenya referendum initiative," he said.
Governor Oparanya and other ODM leaders in Kakamega had insisted that the Ford Kenya event would not be held in the town.
Raila said the chairmen in the coalition's secretariat Johnstone Muthama (Wiper), Eseli Simiyu (Ford Kenya) and James Orengo (ODM) will meet on Tuesday and provide more details about the launch.
Mr Oparanya said there were no differences between between him and Wetang'ula and insisted he had nothing to do with the pulling down of the Ford Kenya leader's billboard in Kakamega town.
"Wetang'ula is my elder brother. There is no rivalry between us. I did not even see the said billboard," he said.