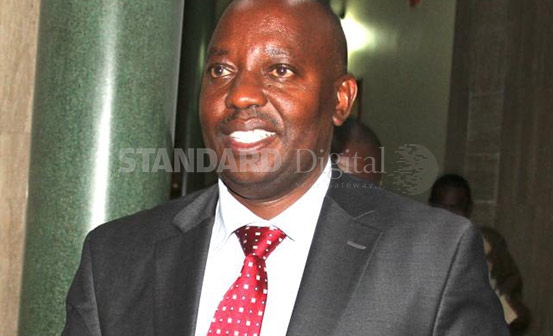 Machakos Deputy Governor Bernard Kiala yesterday exercised his powers in the absence of the Governor by suspending two ministers and a chief officer. But the suspended ministers dismissed the action as laughable and a big joke.
At a press conference in his office, Mr Kiala (pictured) announced the suspension of the Decentralised Units and IT Minister Kioko Luka, who is also acting Water Minister, Roads and Public Works Minister Joshua Musili and Agriculture Chief Officer Nimrod Mbai, for what he termed misconduct.
The Deputy Governor took the disciplinary measures in the absence of Governor Alfred Mutua who has been out of the country reportedly wooing investors.
In the latest changes, Kiala also reinstated to office suspended Water Minister Francis Maliti and his Agriculture counterpart Larry Wambua. "Owing to the misconduct demonstrated by the three, I have taken the decision to suspend them in a bid to streamline county governance,'' said Kiala.
Kiala said he could not let things go wrong since the governor had taken long on his foreign trips, leaving a leadership vacuum.
In response, Mr Luka said the deputy governor's action was unconstitutional since he had no powers to fire or hire as such responsibility rested in the hands of the governor.
"Let the deputy governor know I am still in my office in my capacity since he has no powers to suspend me,'' he said. A similar response was echoed by Mr Musili.