Raila Odinga's strategy to regain Rift Valley vote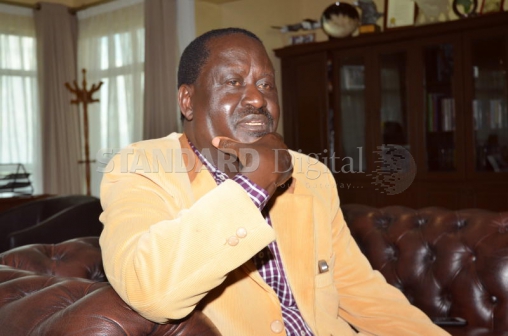 NAIROBI: In what could be his last dig at the presidency after a chequered political career, CORD leader Raila Odinga is working on an elaborate political strategy to regain control of the crucial Rift Valley vote ahead of the 2017 General Election.
The former Prime Minister is keen to reap big from the political fall out between Deputy President William Ruto and a number of his allies, including Bomet Governor Isaac Ruto and Kuresoi South MP Zakayo Cheruiyot.
Last weekend, Raila was in Kericho County where he held meetings with leaders from the South Rift region. The Standard on Sunday has established that discussions revolved around the International Criminal Court (ICC) case facing the DP, eviction of people from the Mau Forest and problems bedevilling farmers in the region.
According to a local leader who attended one of the meetings at Rays Hotel in Kericho town, Raila's strategy seems to entail riding on the differences among leaders in URP, especially the fallout over formation of a new umbrella party for Jubilee affiliate outfits, and unfulfilled promises to voters by the ruling coalition.
Mau evictees
The former PM is also said to be reaching out to some Ruto's lieutenants to weaken the latter's hold on the vote-rich region. "We met him as local leaders who want to work with him because, as a community, we feel the Jubilee government has abandoned us (the Kipsigis)," said a United Republican Party (URP) official working closely with Governor Ruto.
Raila also met leaders of families evicted from the Mau Forest in 2005 and who are yet to be resettled. He reportedly distanced himself from allegations that he was behind their eviction from the forest and promised to visit the families in camps, saying he would ensure they were either compensated or given alternative land.
Sources at the meeting said the CORD leader made it clear that he was on a mission to reclaim the regional support he lost in 2013 and sought to exonerate himself from accusations by some Jubilee politicians that he knew something about the implication of Ruto at the ICC.
"I and Ruto were playing in the same team prior to the 2007 polls so there was no way I could have fixed him," he told a gathering at Kitoben Africa Gospel Church in the Kipkelion constituency.
The former PM was at the church on the invitation of Governor Ruto, whose father started plans to build the church but died before its completion. Before his death, the late Paul Tirop had requested Raila to help complete the construction of the church.
Siaya Senator James Orengo, who accompanied the CORD leader, said the meeting in Kericho was the first of many Raila is scheduled to hold with local leaders.
"We are planning to visit the families evicted from the Mau forest to tell them the truth of what exactly happened and who was behind their eviction. The visit is deliberate. We are consulting local leaders who want to work with Raila as he prepares to run for president in 2017," Orengo said.
Rift Valley voted overwhelmingly for Raila in the 2007 polls. In 2013, Ruto rallied the expansive Rift Valley to Jubilee and turned the tide against Raila over the handling of the controversial Mau evictions and his indictment at the ICC.
Since then, the Kalenjin have been seemingly hostile to the CORD leader. Things became more complicated for Raila in September when Gatundu South MP Moses Kuria sensationally claimed he was part of the people who fixed the DP.
But a fallout between URP leaders, especially in the South Rift where the perceived rebels hail from, has given the ODM leader renewed hope that the Rift Valley could be up for grabs in the 2017 polls.
Governor Ruto and a group of rebel URP leaders are in the process of registering a new political party to rival URP. Two weeks ago, Ruto reportedly filed a notice of intention to register the party that he intends to use in 2017. His allies said the governor wants to improve his bargaining power by having his own party, which he can enter a coalition with.
"We have plans to counter URP in 2017. That plan does not include joining the Jubilee Alliance Party (JAP). We will have our own party," said Jonathan Ng'eno, the Emurua-Dikirr MP.
New party
By registering a new party, Ruto is keen to avert a scenario where he might be left without a party, following the planned merger between URP and TNA.
Ruto has remained tight lipped on his political association with Raila. One of his aides Bernard Siele denied that Ruto is either working with Raila or that plans are underway to form a new political party. But Ms Olga Karani, a political activist and one-time URP official, said anything was possible ahead of 2017. "All Kenyans need are leaders who have the interests of the people at heart. Raila and Ruto are such people," she said.
Karani who now works for Raila's Orange Democratic Movement (ODM) regretted that the people of Rift Valley were made to believe Raila took Ruto to ICC.
Ruto is also expected to work closely with Kanu Secretary General Nick Salat, who also hails from Bomet, in a bid to broker a partnership with Kanu, which is led by Baringo Senator Gideon Moi.
Before his Kericho tour, Raila met Ruto and Salat at the Silver Springs Hotel in Nairobi. The encounter was perceived as a preliminary to striking a political deal.
But as Raila forays into the vote rich region, political heavyweights who stood by him and CORD in 2013 despite the URP/Jubilee wave that swept the Rift Valley, have since warmed up to the DP.
Among them are former ODM chairman and Industrialisation minister Henry Kosgey, former Agriculture minister Sally Kosgei, former Higher Education minister Margaret Kamar and former Kipkelion MP Magerer Lang'at.
Phone books hide many secrets
Apparently, most Kenyans do not write people's real names in their phone books, and prefer to use fancy pseudonyms and wild nicknames instead, claiming they are easy to remember.