Declare corruption a national disaster now, Aden Duale declares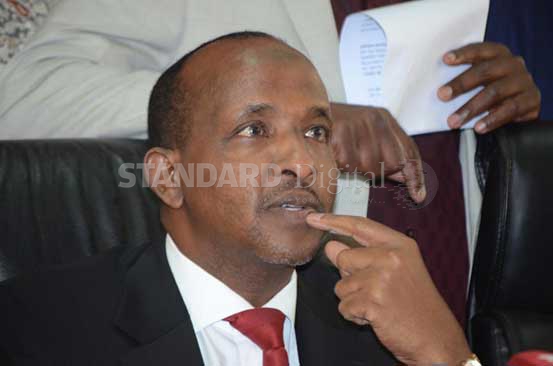 NAIROBI: Corruption should be declared a national disaster, National Assembly Majority Leader Aden Duale has declared.
In an exclusive interview with The Standard on Sunday, Duale said graft is entrenched in all sectors of the economy and it is to blame for rising poverty, terrorism and crime.
"Mega corruption is going on with impunity in Parliament, Judiciary and the Executive. Bodies tasked with the fight against graft like police and the Ethics and Anti-Corruption Commission, private sector and county governments are also tainted," said Mr Duale.
To tackle the problem head on, the Garrisa Township MP proposed that all officers in key institutions mandated to fight graft, be vetted afresh.
Corrupt EACC
He proposed that all investigating officers working in the office of the Director of Public Prosecution, the Criminal Investigations Department and the Ethics and Anti-Corruption Commission be vetted afresh.
At the same time, the hard-hitting Jubilee politician accused officers tasked with dealing with graft issues of allegedly not doing their work and instead abetting the problem by engaging in the vice.
Duale claimed that EACC officers are allegedly entering into deals with suspects they are supposed to be investigating. He pointed out that in North Eastern, corruption was to blame for the rise in insecurity but the problem is being addressed.
"Corruption has reduced because police officers now wear plain clothes as they mingle with people in mosques and other social places. Those who used to take money to allow foreigners into the country were transferred to other parts of the country," said Duale.
But as Duale pointed fingers at specific institutions, opposition leader Raila Odinga told Kenyans that the problem lies squarely with State House, which he claimed had refused to come clean on several scandals including how proceeds from the Sh75 billion Eurobond were used.
"There have been questions on how that money was spent especially why it was allocated to some ministries that do not deal with infrastructure," said Raila.
But Duale dismissed Raila's blanket condemnation of State House, directing blame to other organs.
"If EACC writes a letter to me accusing me of corruption, they will also assign two investigating officers to handle the case. But before the end of the day, they will through hook and crook try to reach me so that we can strike a deal and give me a clean bill of health. That is how rotten we are," said Duale.
Without mincing his words, the Majority Leader warned those engaging in corruption that their days are numbered.
"Corruption is a societal problem now and it needs to be dealt with as a national disaster. We should not engage in blame game like Raila is doing," said Duale.
Raila and Duale this week engaged in a verbal exchange when the former Prime Minister asked the legislator to stop responding to him since they are not in the same league. But in a swift response, Duale told Raila that he was the official spokesperson and leader of government business under the current constitutional arrangement and has the right to defend the government.
"Where does Raila derive his legitimacy to expect answers from the President? He only derives legitimacy from the ODM Constitution where he is a party leader," said Duale.