Wiper, URP parties push to secure more Nairobi seats in 2017 elections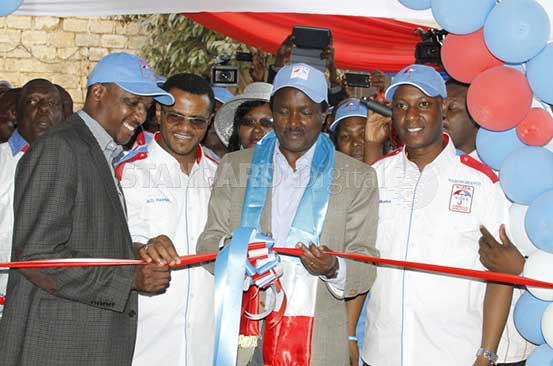 NAIROBI: Leaders of some ethnic communities living in Nairobi have begun a covert campaign to boost the representation of their communities in city politics.
At the centre of the scheme are the Kalenjin and Kamba, the third and fifth populous ethnic groups in the country respectively, but which have no representation in the city's 17 National Assembly constituencies.
Of the 17 constituencies, the Kikuyu lead the pack with nine of its legislators in Dagoreti South, Mathare, Starehe, Embakasi West, Embakasi Central, Kasarani, Embakasi North, Makadara and Roysambu securing seats through TNA tickets. The Luo come second with four legislators (Lang'ata, Kibra, Ruaraka and Embakasi East).
The rest are shared out by the Luhya (Westlands), Kisii (Dagoretti North), Somali (Kamukunji), Kenyan-Indian (Embakasi South).
Despite being the second most populous ethnic group in the country, Luhyas are also uncomfortable with their lone seat in the city.
Last month, about 4,000 members of the Kalenjin living in Nairobi met at Deputy President William Ruto's residence in Karen to strategise on how to win a parliamentary seat in the city. The group resolved to have all the community members in the city register as voters.
REGISTER IN ONE PLACE
"It will also be good to have some of our people in the city win political seats, so you do not have to go upcountry to register, let's register in one place so that we can have elected leaders in Nairobi like other people," said the DP at the meeting.
In the 2013 General Election Ruto's former Personal Assistant Nixon Korir contested for the Lang'ata constituency parliamentary seat on a URP ticket but lost to ODM's Joash Olum by 8,000 votes.
Mr Korir is among the only three candidates Ruto's party fielded in Nairobi's 17 constituencies in the last poll. The other two are Joyce Ndinda, who garnered 500 votes in Mathare, and Linnet Mirehane who got more than 5,000 votes in Dagoretti North.
A fortnight ago, CORD co-principal Kalonzo Musyoka's Wiper Democratic Movement embarked on campaign to restore the Kamba's place in city politics in a drive spearheaded by Nairobi Deputy Governor Jonathan Mueke.
The deputy governor is the only elected leader from Wiper in Nairobi despite the Kamba, dominating other communities in certain constituencies in the city, especially the five Embakasi's—South, North, West, East and Central.
"We have learned from our mistakes in the past and we are keen to turn the tables this time round. That is why we have planned a series of activities to reassert our place in city politics. Watch this space," Mueke told The Standard on Sunday yesterday.
The party opened a new Nairobi branch office tasked with recruiting party members and potential candidates in city constituencies. During the event, Kalonzo announced Wiper's intention to flood the city with candidates for all seats, including the Senate.
"You will remember that I begged the late Makueni Senator Mutula Kilonzo to run for Senator in Nairobi but being who he was, he rejected my advice. And so we are telling Sonko to make up his mind early because we have young and promising leaders including our daughter Kethi Kilonzo," he said.
Wiper Secretary General Hassan Omar Hassan put ODM on notice in the Nairobi gubernatorial race. Mr Hassan, claimed that Nairobi Governor Evans Kidero has been slighting his deputy Mueke.
"If our friends in ODM do not show us respect as partners we may have to re-evaluate our relationship with ODM as far as the governor's position is concerned," he said.
According to Fred Kioko, who ran for MCA in the Parklands/Highridge ward on a Wiper ticket in the last election, the feeling within the Kamba community is that it was duped during the 2013 power-sharing negotiations. "The fact of the matter is that despite our huge presence in the city we have nothing to show for it. It's a shame that we could not force through arrangement which would ensure we win at least four constituencies," Mr Kioko said.
Wiper has now crafted a "24-7" strategy which entails having 24 ward representatives and seven MPs elected in the city. The seats being targeted are Embakasi East, Embakasi West, Embakasi South, Embakasi Central, Makadara, Mathare and Kamukunji.
But if the results of 2013 elections are anything to go by, the strategy looks ambitious. The party fielded candidates in 12 constituencies and lost dismally except in Embakasi South where its candidate Musili Mawathe lost by 3,000 votes to ODM's Irshad Sumra.
Three other candidates from Mawathe's core vote (Kambas) collectively scooped close to 7,000 votes running on fringe parties. The party lost terribly in the Embakasi North (not part of 24-7 strategy) as well as Embakasi Central, Embakasi East and Embakasi West.
In the latter three Embakasis, the party candidates scored, on average, 3,000 votes against a winning average of 36,000 votes.
The situation does not look good for Luhyas in Nairobi either. In the last poll, the only Luhya candidate who won—Westland's Timothy Wetang'ula —almost fell to the force of the TNA candidate and the pressure of two Kenya-Asian candidates Kamlesh Pattni and Amin Walji.
The two Kenyan-Asians divided their Indian vote by 10,000 and 11,000 votes respectively while TNA's Kenneth Waiganjo scooped 28,000 votes. A "tyranny of numbers" approach entailing the Kikuyu and Asian voters would have knocked off Luhyas from their last pedestal in city politics.
Former Nairobi Mayor George Aladwa, also the chair of ODM in Nairobi, lost the Makadara constituency seat by slightly over a thousand votes to TNA's Ben Mutura. "We respect our brothers in the coalition but we must retain individual party dreams and aspirations. For us in ODM, we are targeting 14 seats in Nairobi. We know we will get those seats based on our plans, calculation of numbers and our performance," Mr Aladwa says.
He says ODM will push for a formula of CORD fielding single candidates to avoid a situation where coalition members deny each other victory. In the last poll, Aladwa scored 36,183 votes against winner Ben Mutura's 37,967. Wiper's Ajiambo Wafula garnered 7,505 votes to the detriment of the former mayor.
"The whole idea is to pick the most popular candidate in the coalition regardless of their party, their ethnicity or colour. We do not want a situation where candidates who stand no chance spoil the party for popular candidates. This will also afford some measure of fairness to the diverse communities who all want a piece of Nairobi," Aladwa explained.
WRONG POLITICAL PLATFORMS
Dagoreti South MP Dennis Waweru admits that Kamba and Luhya communities got a raw deal by negotiating entry into city politics using "wrong political platforms".
"They got a raw deal through the ODM partnership. And they will still get a raw deal if they back ODM once again. The winning team is being assembled within Jubilee and there is something for everyone," Mr Waweru added.
He said communities living in Nairobi are welcome to reorganise themselves in as much as they want. The MP plans to run for the governor of Nairobi on a Jubilee ticket. Aladwa says ODM must bag the governor, women representative and Senate seats. Waweru, however, says CORD should not dream of taking the governor's seat any more. "I want to assure them that the 2017 elections are sealed as far as the presidency and the Nairobi governor seats are concerned. They are there courtesy of our mistake as Jubilee. Once beaten twice shy," he said.