Interior Principal Secretary Monica Juma accused of influencing transfer of senior officer from ministry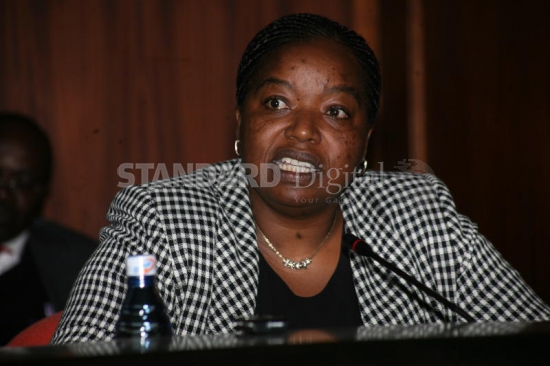 NAIROBI:
Interior PS Monica Juma has found herself in the eye of another storm after she was accused of forcefully transferring an Immigration officer from the Ministry of Interior to that of Agriculture.
Dr Juma's name was rejected by the National Assembly as the nominee to position of Secretary to the Cabinet almost two ago.
The officer, Abednego Etyang'a, was allegedly victimised after he wrote a brief on plans to build a wall along the Kenya-Somalia border.
A petition tabled before the National Assembly claims that Juma unfairly influenced the officer's transfer following a proposal he made with regard to the security management of the porous Kenya-Somalia border.
"The principal secretary for Interior victimised the petitioner by transferring him from the Ministry of Interior and National coordination...the posting and subsequent directive by the PS to the petitioner to proceed on leave pending deployment mounts to intimidation and harassment of a public officer and is in contravention of the constitution, labour laws and the public service regulations," reads the petition.
The petitioner, a senior deputy secretary (Job Group R), wondered how the ministry could transfer him and even order officers to kick him out of his Nyayo House office.
According to him, the Public Service Commission regulations require that in re-designation, a Cabinet secretary can only transfer officers from Job group A to P, upon suitable recommendation of the Ministerial Human Resource Management Committee.
According to a circular from the head of Public Service Joseph Kinyua to all Cabinet secretaries and copied to Public Service Commission Chief Executive Officer Alice Otwala, Etyang'a was moved to the Ministry of Agriculture in the same capacity. Mr Etyang'a is among eight officers whose transfers have been effected by the Central Human Resources Management Positing.
"All affected officers are required to report to their new work stations by 15th of this month (last week). The following postings have been agreed upon and should be effected immediately," reads Mr Kinyua's circular.
Etyang'a's brief on the wall to Juma was copied to Interior Cabinet Secretary Joseph Nkaissery and Immigration Services Director Gordon Kihalangwa.
Juma allegedly responded immediately, telling Etyang'a to keep off the matter. "Please note that all aspects of the Kenya-Somalia border project have been conceived and are being implemented within the framework of the National Security Advisory Council and no Government department is involved in this project discreetly," read Juma's letter to Etyang'a.
She continued: "It is also prudent and procedural to consult and seek guidance before writing letters that touch on programmes and policy directives." Etyang'a wants the National Assembly to establish whether due process was followed in his transfer and the process revoked.
Kenya declares total war on killer alcohol as crisis worsens
Scenes of young men and women in a drunken stupor, some semi-comatose in filthy trenches, knocked out by lethal concoctions brewed by the 'merchants of death' who largely sell reinforced drinks, are now an eyesore in Kenyan villages and towns.