State now allows CORD to hold rally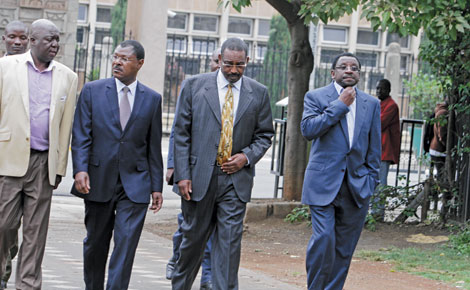 CORD leaders (from left) Jakoyo Midiwo, Moses Wetang'ula, Farah Maalim and James Orengo after they held a meeting with Inspector General David Kimaiyo at his office in Nairobi. [Photo: Moses Omusula/Standard]
By Standard Team
Kenya: President Uhuru Kenyatta and his deputy William Ruto reportedly intervened to have Inspector General of Police David Kimaiyo lift a ban he had imposed on political rallies.
Kimaiyo Wednesday rescinded his order and said CORD's Saturday rally at Uhuru Park, to be addressed by former Prime Minister Raila Odinga, who has been in the US for close to three months, can go on.
The Standard learnt that Kimaiyo issued the ban following a recommendation of National Security Advisory Committee (NSAC) that had met on Tuesday.
The NSAC is chaired by the Head of Public Service Joseph Kinyua and includes top security chiefs. Its role under the constitution, however, is only advisory, and it has no executive power over the police.
When Kimaiyo made the announcement about the ban on rallies, sources said the President and his deputy felt it was "retrogressive and unconstitutional".
Their view reportedly was that the action was drastic yet there was no justification.
Sources explained the Head of State was even more concerned that the ban would cast the Jubilee administration as intolerant to criticism.
The two leaders were concerned about the possible backlash from the public if the Jubilee government was seen to employ repressive actions.
More importantly, the President and his deputy were keen to avert imminent confrontation between police and opposition supporters when the Government is fighting insecurity and terrorism that has hurt tourism.
"The President was concerned that the ban would be seen as dictatorial and obviously many will think he was behind it. Again the President understands that the Constitution allows any Kenyan to assemble and thus will not accept a situation where these freedoms are curtailed unnecessarily," the source said.
Weighing these concerns, sources said Uhuru called Kimaiyo on Tuesday evening to understand why he had taken the decision.
The President reportedly met Kimaiyo Wednesday morning at State House before leaving for Eldoret where he presided over the passing out of Kenya Defence Forces.
While addressing residents of Eldoret town along Uganda Road Wednesday, President Uhuru said he did not see any reason why police should ban the Opposition coalition from holding their rally on Saturday.
"What are rallies? They will be held, people will attend and go back home and the following day, they will be back to their usual chores," Uhuru said.
The President reminded Eldoret residents that he too was in the Opposition one time.
"Remember I was in Opposition one time and you allowed me to talk. Now I am the President. I should work and not talk," he added.
Uhuru said he did not care if his rivals would use the rally to insult him. "Even if they insult me, I will still sleep. The only things that make it hard for me to get sleep are terrorism and unemployment, among other things," the President said.
Angry reactions
Earlier on Tuesday when Kimaiyo's decree prompted angry reactions from Opposition leaders, who had vowed to defy the ban, the President's inner circle had weighed their options.
Some of Uhuru's aides had wanted the Presidential Strategic Communications Unit (PSCU) to release a statement contradicting the IG, but others argued that it were better if Uhuru called Kimaiyo to ask him to rescind the ban.
Apparently by the time National Assembly Majority Leader Aden Duale issued a statement criticising the IG's announcement, he was privy to Uhuru's position.
Duale said even though the IG was within his rights to cancel political rallies, he owed the political leadership of Jubilee an explanation.
"We want to know why he has cancelled the rallies without giving reasons. As far as we are concerned, our rally is still on because it cost us time and money to prepare and put logistics in place," Duale said.
And President Uhuru's The National Alliance (TNA) party chairman Johnson Sakaja had also condemned Kimaiyo's ban.
"Ban on political rallies is a major reversal on gains made through our Constitution. I may not agree with what you say, but your right to say it is fundamental in a democracy," Sakaja posted on his Facebook page on Tuesday evening.
Early Wednesday morning, Kimaiyo met CORD leaders Moses Wetang'ula, Siaya Senator James Orengo and former National Assembly Deputy Speaker Farah Maalim.
The parties agreed that CORD will designate the event as a "public" and not "political" rally and police will provide adequate security.
Addressing the Press outside Parliament Buildings after the meeting with the IG, Wetang'ula described their meeting as 'cordial' saying the IG had given them the nod to hold their rally, including many other planned afterwards across the country.
"We held fruitful discussions with the IG on a broad range of issues regarding a statement that surrounded the cancellation of our rallies, but we are happy to report to our supporters and Kenyans that we have the assurance that our meetings will take place," Wetang'ula said.
Orengo attributed the IG's quick hasty retreat to the pressure from the public.