Leader of Majority Aden Duale reveals Sh15 billion oil deal scam by Kibaki regime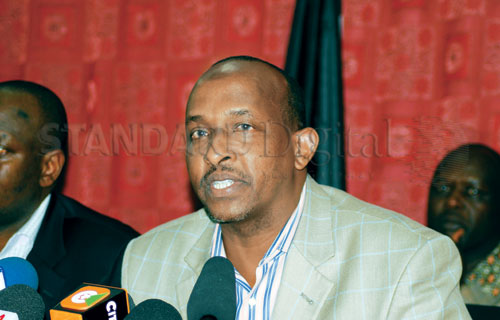 Aden Duale: To shed light on how "big and senior people" in retired President Kibaki's administration benefited.
By ALPHONCE SHIUNDU
KENYA: Leader of Majority Aden Duale has claimed top officials in the Ministry of Energy under former President Kibaki's government orchestrated a flawed deal through which Sh15 billion was lost.
Duale questioned the 50-50 share agreement between the government and Essar Oil of India over the Kenya Petroleum Refinery Limited that he claimed was meant to enrich senior figures.
He told the House he would voluntarily testify before the Parliamentary Committee on Energy to shed light on how "big and senior people" in the administration of retired President Kibaki benefited in the deal that cost the country Sh15 billion.
Duale said he was willing, as a member of Garissa Township Constituency, to show proof of the scandal he says "rivalled the Anglo-leasing and Goldenberg scandals in magnitude".
"I want to prove to the country that over Sh15 billion was lost. The land alone, on which the refinery stands, is valued at Sh350 million, yet we sold the refinery for $3 million (Sh240 million). Even if the equipment at the refinery was sold as scrap metal, it would not have cost below $10 million (Sh850 million)," said Duale.
He alleged "big people in the Ministry of Energy and in the Kibaki government" pushed the deal through.
Duale sought a chance to testify after Omar Mwinyi (Changamwe MP) proposed to have a special committee formed to investigate the matter. Mwinyi said the privatisation and imminent closure of East Africa's only refinery would likely result in unemployment, given how many people work at the refinery based in his constituency.
The Majority Leader said the Jubilee administration was likely to cancel the agreement with Essar Oil.
"We have to get to the bottom of this agreement," said Duale.
He said the oil processed through the refinery was much more expensive than the direct imports. There were reports that many of the marketers were reluctant to have their oil processed through the refinery.
National Assembly Speaker Justin Muturi ordered the House Committee on Energy, which is investigating the matter, to table a report within the next 10 days.
"If the committee fails to deal with this issue within that time, it will be taken away and prosecuted elsewhere," said Muturi.
Muturi also ordered James Rege (Karachuonyo), a former chairman of the Energy Committee in the Tenth Parliament, to give insight to the current team regarding the deal.
Kenya seeks exposure at Under-23 World Champs
National volleyball team coach Sammy Mulinge says Kenya's participation in the forthcoming Under-23 FIVB World Championships is aimed at preparing the players for the future. The tournament is scheduled to run from October 3-12 in Mexico.