Survey: Raila, Kalonzo most popular pair
POLITICS
By - | January 12th 2013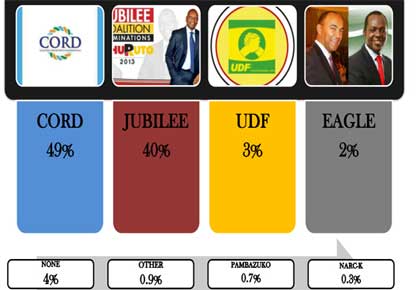 Results of opinion polls done by Infotrak
By Augustine Oduor
NAIROBI; KENYA: Coalition for Reforms and Democracy has been rated the most popular alliance among Kenyans today with an approval rating of 49 per cent.
The coalition's pair of PM Raila Odinga and Vice-President Kalonzo Musyoka would win the election today with some 51 per cent of the vote, according to a new study.
The Infotrak Harris poll conducted between December 28 and January 2 shows the Jubilee coalition comes second with a popularity rating of 40 per cent.
The coalition's pair of deputy Prime Minister Uhuru Kenyatta and his running mate William Ruto would get 39 per cent of the votes cast to emerge second if polls are held today.
The survey however casts doubts on possibility of a run off saying the 'third force' may not be strong enough. "As things stand now, if the two coalitions mount an aggressive campaign ahead of the elections then a run off would be unlikely," said Infotrak CEO Angela Ambitho.
Approval rating
Musalia Mudavadi's UDF has been rated third with an approval rating of three per cent. Eagle coalition that brings together Peter Kenneth's Kenya National Congress party and Raphael Tuju's Party of Action has a two per cent rating.
But if polls are held today the Eagle coalition would get three per cent of the votes cast. Former Education PS James Kiyiapi and his Restore and Build Kenya party would only manage 0.1 per cent of the votes. The Pambazuka Coalition has an approval rating of 0.7 per cent as Martha Karua's Narc-Kenya having a popularity rating of 0.3 per cent.
A sample of 1,500 respondents was interviewed to represent the 14 million voters registered by the Independent Electoral and Boundaries Commission. The survey was conducted in 25 counties with a margin of error of 2.53 at a 95 per cent degree of confidence.
On regional support, CORD leads in all the provinces except Rift valley and Central. In Eastern and North Eastern, CORD enjoys 85 and 61 per cent support compared to 15 and 28 per cent for the Jubilee Coalition respectively.
The Raila and Kalonzo coalition also leads in Western and Nyanza with some 61 and 82 per cent rating. This also compares to Jubilee's three and 16 per cent rating in the same regions respectively.
However, Uhuru's coalition leads by 85 and 52 per cent in Central and Rift Valley, respectively. Mudavadi enjoys majority support in Western Province with 23 per cent support.
Ms Ambitho, however, said Nairobi and Mombasa counties may go either way of the coalitions depending on aggressiveness of the parties. According to the poll, CORD leads with 56 per cent against 38 of Jubilee. CORD also enjoys support in most of the counties where the polls were conducted.
In Nyanza for instance, CORD gets majority approval of all the four counties selected. These are Kisumu, Homabay, Migori and Kisii.
Selected counties
It also bags three of the selected counties at the coast-Mombasa, Kilifi and Taita Taveta. Jubilee, however, takes lead in all the three selected Nyeri, Murang'a and Kiambu counties in Central Province.
In the Rift Valley, Jubilee Alliance has a head start in Nandi, Nakuru, Uasin Gishu and Biomet. CORD only gets majority approval in Nark and Trans Nzoia of all the six counties selected for the survey. Further details of the findings indicate that if Mudavadi were to pull out of the race, 42.3 per cent of his supporters would vote for CORD. Only seven per cent of them would vote for Jubilee. Another 40 per cent of Narc-Kenya leader would vote for CORD Alliance, if she quits the race now.
If KNC leader, Kenneth, were to quit the presidential race, some 10. 3 per cent would vote for Uhuru's coalition. The other 30.8 would vote for Raila coalition. Interestingly, 100 per cent of Kiyiapi's followers would vote for Cord were he to quit the race. Ambitho said the upcoming poll would be two horse race if the poll findings are anything to go by.
"If the coming polls will result into a three-horse race, the majority (52 per cent) of the surveyed respondents indicated that they would support CORD," she said. She said some 39 per cent of the voters would cast their ballots for the Jubilee Alliance as only nine per cent would vote for the third force.
The opinion poll suggests that many Kenyans would prefer Mudavadi and Kenneth alliance for the third force. "Assuming Mudavadi, Karua, Kenneth, Eugene Wamalwa and Kiyiapi were to create a third force, 32 per cent of the voters said they would prefer Mudavadi as the candidate and Kenneth as running mate," she said.
This survey could perhaps be a pointer to whom Mudavadi should talk to for a running mate. This is because, Kenneth candidature and Tuju as running mate would only attract 25.4 approval rating.