Pambazuko Coalition dissolved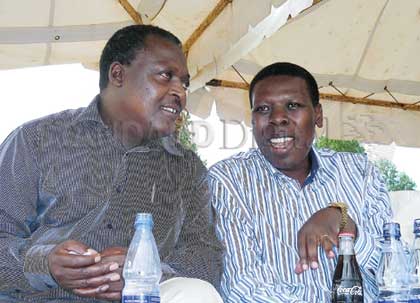 Cyrus Jirongo (left) and Eugene Wamalwa at a past function [Photo:File/Standard]
By Allan Kisia
The Pambazuko Coalition, which brought together Eugene Wamalwa's New Ford Kenya (NFK), Cyrus Jirongo's Federal Party of Kenya (FPK), National Vision Party (NVP) and Shirikisho Party has been dissolved.
National officials of FPK, NVP and Shirikisho Party terminated the partnership on Saturday and informed the Registrar of Political Parties.
FPK, NVP and Shirikisho Party gave two reasons for terminating the partnership, which was formed on December 4.
The three said failure by NFK to behave honourably within the coalition and failure by the same party to consult its partners with regards to dealings with other parties prompted them to terminate the coalition.
"In the last two weeks, Kenyans have watched as New Ford Kenya and its leadership led by Honourable Eugene Wamalwa engage in disgraceful political summersaults while pretending to speak for the Pambazuko movement," said Benter Opande, NVP's national vice chair.
Speaking at a press conference held at FPK offices in Nairobi, Opande said all attempts to get NFK to change "juvenile and non-serious approach to national politics failed."
"This kind of political approach is unacceptable to those who founded the Pambazuko Coalition hoping it can provide a middle ground ahead of the 2013 General Elections," she added.
She further added that they were left with no alternative but to officially disassociate themselves from the Pambazuko Coalition which "was being turned into a national joke."
Other officials who were present at the press conference were Peter Shehe (FPK) and Abdulaziz Wandati (Shirikisho Party).
Opande said all the three parties will hold their respective national delegates conference to find the way forward.
"The decision on where to go now lies with the individual parties," she explained.
Wamalwa was set to battle it out with other presidential aspirants on the Pambazuko Coalition ticket.
According to the deal that had been signed, the coalition's flag bearer would have been elected by the National Delegates Committee.
Those who were seeking the alliance's ticket include Wamalwa, Jirongo and Nicholas Biwott (New Vision Party of Kenya).
Ghana's poll results challenged
Ghana's main opposition party has filed a petition at the Supreme Court to challenge President John Mahama's victory in this month's election.