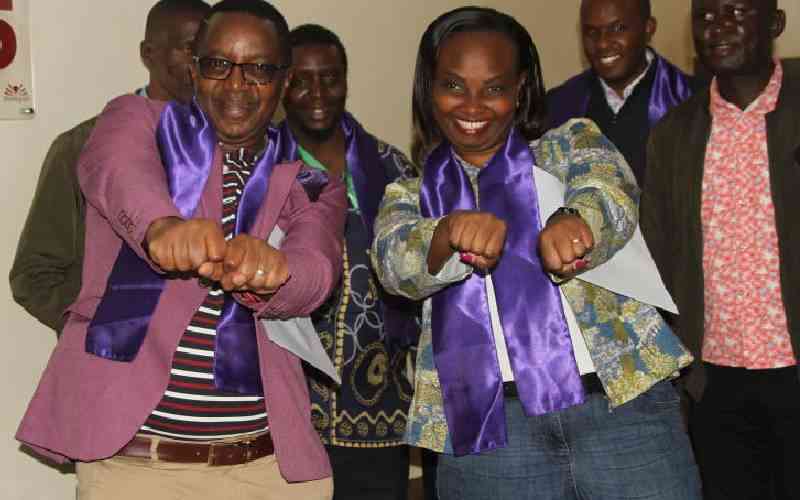 Every leg of a marathon defines the outcome of the race. Whether you are a veteran runner - and have trained long and hard, or a novice – with big dreams and great inspiration, what matters is how you run every kilometre. If you resign yourself to the steady rhythm of your footsteps on the tarmac, you have lost the race before you cross the finishing line.
Over the last 59 years, Kenya has been running her marathon. Beyond political independence, Kenya has been chasing the real independence of her people. This independence has been elusive – we are still shackled by corruption despite four different political regimes.
Some 59 years later, we have an estimated Sh20 trillion stashed away by rogue politicians and their cronies. Men and women who have dipped their hands in the pot that should have baked the national pie. As we go to the polls on Tuesday, we will have an opportunity to vote for men and women who have been part of this plundering of our nation, or for men and women who can be tested to raise a new standard.
We have examined the manifestos and followed the presidential debates. Some of us have been convinced by what we have seen and heard, but I believe that many more of us have been influenced by the notion that this election's winner has already been decided. As the diligent and intelligent men and women who continue to weave the fabric of our nation, I urge you to make a decision based on the facts that you have lived.
In the last 20 years, Kenyans lost trillions in several scandals. One of the principals of the ruling regime will be on the ballot on Tuesday. A core leader and influencer in the last two regimes will be on the ballot on Tuesday. To say that the election is decided and that you will assign your vote to men and women who have led in these regimes is robbing yourself and your country of the opportunity to define a better narrative for our marathon.
I have heard it said often that Kenyans are making their choices based on the candidates that they know, and how loudly they have campaigned. I dare say that these candidates have executed their campaigns as an investment. They will be looking for a return on their investment when they get into office.
I would love to be the next Deputy President of Kenya because I believe there is hope for Kenya. Our intelligence, resilience and diligence inspire me. I believe we can accomplish even greater things than we have, if we put the right leadership in place. We have circled the mountain of hope for too long, and it is time to take our place in the annals of history.
As a wife, mother and a corporate executive, I continue to see the need for better leadership. I want my children to get access to the opportunities that they deserve in school, in sports and elsewhere. When corruption takes money that should be invested in their education or for the development of their talent it is a loss for them, a loss for me and it is also a loss for my country. When I see a widow disinherited by unjust relatives and corruption in the system, I imagine what would happen if this shoe was on my foot? I want to define a different narrative.
If our country should prosper, it must prosper on the foundation of justice. We cannot take our rightful place in the world if Wanjiku is still losing her ancestral land and hard earned resources to the powers that be. We cannot win if every five years we are afraid that we will lose that we have toiled for to the emotions of political outcomes. We must be bigger than this. We are bigger than this.
I am confident that my love for Kenya and my experience in Kenya's corporate and social arenas are necessary for a new story for Kenya.
Fellow Kenyans, the hope of our nation depends on your vote. Will you vote for the steady and frustrating rhythm of the past, or will you go forward in hope? If you choose to go forward in hope, then I urge you to vote for David Mwaure Waihiga. We are clean, we are committed and we care.
Ms Mucheru is the presidential Running Mate of Agano ticket of David Mwaure