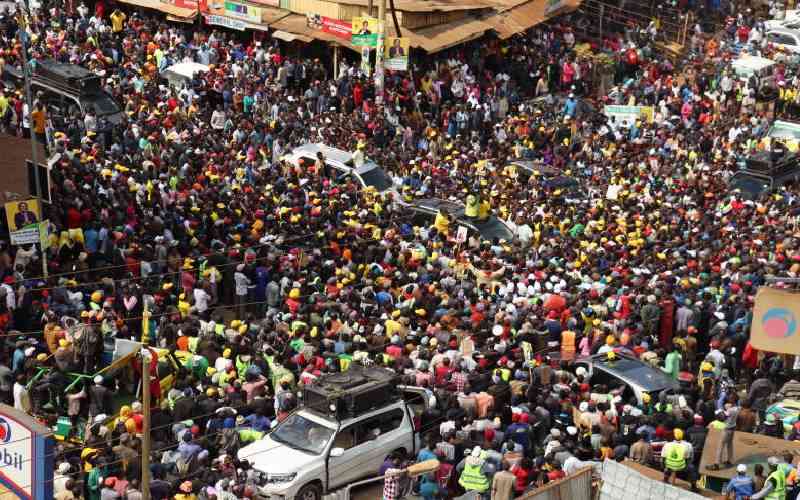 I am not a psychologist or a discourse analyst, but if you have observed the body language of DP William Ruto, you will realise he is a man confident of winning the coming elections.
Is the man under high-level training in the science of campaign messaging? I have in the past argued in this forum that Ruto has created a fictional persona recasting his public image as an iconic figure and a driver of our politics. A saviour from our economic mess. At some point a year ago, he turned his official home in Karen into a 'small State House" where he would receive delegations singing allegiance from all over the country.
During that time he managed to cultivate a public image, to an obsessive degree, of man in touch with matters at the heart of the common man. Nearly the entire nation fell under his spell with speeches designed to indoctrinate the masses.
He had scapegoats to blame for almost anything and everything wrong in the country. In fact had elections been held, he would have won easily. But why is Ruto so confident? Let us look at likely explanations.
One, Ruto has said more than enough times in different public rallies that his votes cannot be stolen. In my view, his courage stems from a true spirit of the Nandi molded and inspired by the community's spirit, culture and ethnology.
He is inspired by victorious Nandi legends such as Barsirian Arap Manyei, Kipchumba arap Koilege and Koitalel arap Samoei from whom we read resistance, resilience and chauvinism.
Secondly, he believes that unlike his competitors, his quest for presidency is already spiritually predetermined and as such he is ordained and the anointed by God. He has had many hands of religious leaders placed on him for blessings and he has contributed enormous wealth to churches. He has aligned himself to religious leaders for political expediency and moral legitimacy.
In this sense, he has successfully ensured that his main rival Raila Odinga and George Wajakoyah, for example, are seen as not as religious.
Thirdly, the DP believes that he has euphoric following of all the 'commoners' or the hustlers. These are the Mama Mbogas, cart pushers, hawkers, boda boda operators, touts and mitumba sellers among others.
Fourthly, Ruto believes he has the wealth and power as a deputy president to influence key institutions and people in his favour. Fifthly, Ruto believes that his role as the Second most powerful man in the Kenya will automatically propel him to presidency. He speaks of being privy to all State secrets and power.
Finally, Ruto has the support of Mt Kenya and has successfully taken over Uhuru's home base. He believes Mt Kenya votes will produce the next president. These kind of thinking and conviction is dangerous in our local politics.
Like Raila in the past, Ruto should relax and expect either to win or lose and accept that whatever the outcome life must continue.
Dr Chacha teaches at Laikipia University