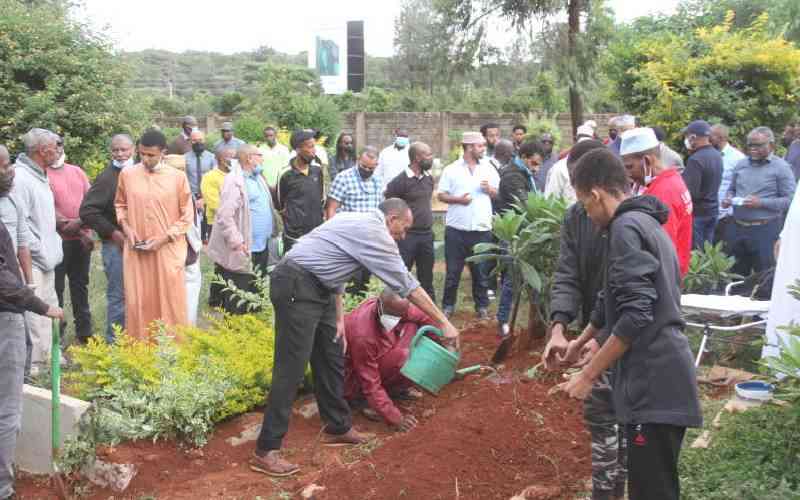 I looked at the typewriter and trembled with fear. The keyboard had suddenly hardened and the machine turned into a frightening monster. My fingers grew weak and jellylike. I could barely type. With sweat pouring down my back, I tried hard to steady my nerves.
Just as I was about to regain my bearing, the pungent cigarette smell hit me again. The smoke drifted across my neck and cheeks melting into my sweaty skin. My fuming and furious boss was once more standing behind me literally breathing fire.
"Stupid boy where the hell is the intro. You have been writing rubbish," he yelled and violently yanked the copy from the typewriter. I stood up dazed and like a drunkard staggered to the bathroom. I didn't realise I had the carbon copy in my hand. I stood in the bathroom staring at the wall. My mind was blank.
"Young man what seems to be the problem?" came a soft and gentle voice followed by a touch on my shoulder. The voice had suddenly calmed my nerves. I turned around and there stood Joe Kadhi. He gave me a warm reassuring smile. He had witnessed my miserable morning encounter with the Group Managing Editor at the time. Joe took the copy from my shaky hands and read through it.
"This is an amazing story. Probably, all he should have told you is to shorten your intro and remove the exclamation mark. Don't let the bullying get on to you. You have a bright future at the Nation and no one should tell you otherwise." He hugged me and walked out.
Imbued with fresh confidence and inspiration, I washed my face and walked back to my desk. I could see faces, even behind heavy clouds of cigarette smoke staring at me. I didn't realise that I was smiling.
Learn first-hand
That bathroom encounter with Joe Kadhi transformed and hardened me. The streetwiseness I had gathered growing up in Nakuru's Kivumbini estate, the years I had spent learning boxing at the Madison Square Garden, and the months of working out in the Karate dojo were restored in that bathroom.
The encounter is just what I needed to survive the then newsroom culture at the Nation House on Nairobi's Tom Mboya Street. No one ever bullied me again!
Before Joe left the Nation, he would occasionally check on me just to cheer me up and remind me of his wise counsel.
Years later, I had grown and taken charge of the Nation News Desk which I managed with my senior Mutegi Njau. Joe became a regular visitor. He would bring his journalism students from the United States International University-Africa (USIU-A) for a tour of the newsroom.
He wanted them to learn first-hand what happens inside the busy media houses.
Ethical journalism
During one such encounter, we shook hands and with tears in his eyes, he told his students: "This young man has come from far. He is now a News Editor. I am truly proud of him."
I held back my tears. I couldn't tell them about the bathroom encounter without breaking down. No wonder, Joe Ageyo, one of his journalism students remembers him thus: "Joe transcended the rarefied realm of theory that often dominates journalism training and regaled us all with lesson-laden real-life anecdotes from real newsrooms. He made us live in the newsroom right there in class. In many senses, I am because he was."
I later met Joe at the USIU where I taught feature and news writing. His pride in the terrified boy grew even more. "You see you are now a teacher like me. I'm glad you didn't allow the newsroom to define your life," he told me.
Journalist Ken Bosire describes Joe as: "A teacher par excellence and crusader for ethical journalism. He never believed in impossibilities. He was a mentor, a great editor with a firm guiding hand. He was also a great writer with compelling points on whatever subject."
While working as Manager in charge of the Free and Fair Media programme at the Internews in Kenya, I organised numerous training sessions on election reporting and conflict-sensitive journalism.
Joe was my favourite facilitator on the topic of ethics. He lived, breathed, ate and slept ethics. He would always arrive with his laptop or a flash disk dangling around his neck, ready for the training.
No wonder, former Nation News Editor Eric Shimoli says of Joe: "For a man of his generation I was always amazed at his grasp of "modernity" and the changing newsroom realities, including technological disruption." During one session at a Nairobi hotel, Joe dug deep into the ethical sins the media had committed fueling the 2007/2008 post-election violence. His session was captivating.
However, one of my mzungu colleagues was getting agitated. He fumed that Joe had gone beyond his time and was eating into other sessions. He was about to snatch the microphone from Joe.
"My friend, this is our father speaking. In Africa, we respect our elders and you are not going rush him." I told him sternly and asked him to back off. Joe's session elicited lots of questions and debates that left a smile on the face of my mzungu colleague.
From Joe, I realised what it meant when our parents told us: "What an elder can see while sitting under a tree, a young person can never see it even if he or she climbed the tallest mountain."
Joe could see talent in young journalists and he dared to nurture, inspire and water it to grow.
Friend and mentor
From him, I learned professional integrity, honesty, love and passion for journalism. He taught us the value and power of teaching and mentorship. He who doesn't grow and mentor others lives a vain, empty and bitter life and dies a failure.
Joe was among the first crop of indigenous journalists to be on the driver's seat of journalism in Kenya. His death has stolen from us a great teacher, a friend and mentor. Like the caterpillar, he transformed into a beautiful butterfly and gelled into academia. He didn't rot away upon retirement. From this transformation, we learn resilience, innovativeness and capacity to change.
The words of Robin Sharma, author of "The Leader Who Had no Title" summarises the work and life of Joe Kadhi; "Basically, to lead without a title is to derive your power within the organisation, not from your position but your competence, effectiveness, relationship, excellence, innovation and ethics."
Each time, I relive the bathroom moment with Joe many years ago, I remember Albert Camus warning that; "A man without ethics is a wild beast loosed upon the world."