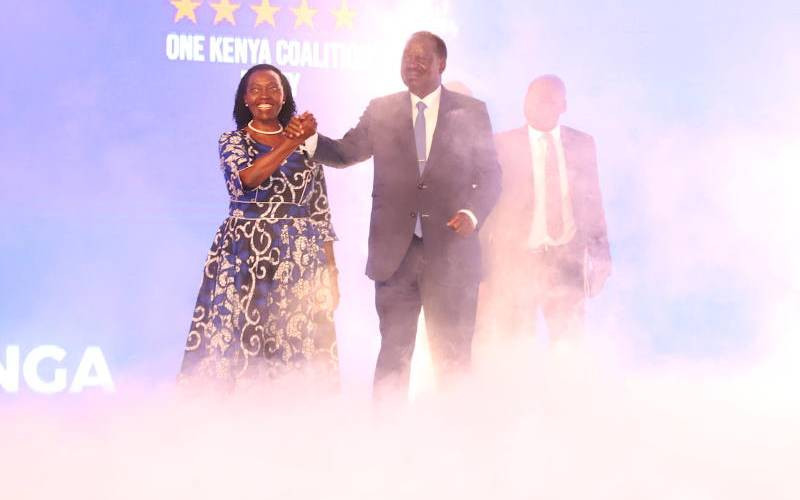 Although the Azimio manifesto contains many positive ideas, it is undermined by a paternalistic ideology that sabotages its stated goal of delivering an economic revolution. On the upside, the strategy for reviving the textile industry and the blue economy is vintage supply side economics that can potentially jump-start marginalised rural economies. Equally commendable is the proposal to leverage the expanded East African Community to provide a bigger market for local goods.
On the downside, the social economic objectives in the manifesto are undermined by a paternalistic ideology that assumes that the relationship between government and its citizens is like that of a father and his dependents. Accordingly, the manifesto is full of proposals where Azimio proposes to introduce new social protection programmes. In its education and health pillar, Azimio promises to provide free education from primary to university and a comprehensive health insurance for all in the health pillar. Tellingly, the health insurance is dabbed Baba Care.
In the social pillar, Azimio proposes to extend a monthly stipend of Sh6,000 to two million poor citizens. Other vulnerable groups to enjoy special attention will be single mothers, widows and the disabled. Additionally, Azimio proposes to improve on social programmes started by the current government currently struggling due to funding challenges. They include the monthly stipend of Sh2,000 for the elderly and the affordable housing programme.
On its economic pillar, Azimio proposes to commercialise large tracks of arable land into productive enterprises in order to improve food security. Azimio also intends to play a direct role in provision of farm inputs such as seeds and fertiliser as well as value addition industries to create employment for the youth.
Billed as a blueprint for Kenya's third liberation, the manifesto aims to achieve Kenya's independence dream of eradicating the triple scourge of illiteracy, diseases and hunger. But despite its lofty goals, the manifesto is undermined by the contemplated central role the government is expected to play in managing and allocating resources. For instance, given Kenya's diversity, reliance on the government as the primary agent for allocating resource will continue to engender ethnic competition to control state machinery.
Besides political instability that is engendered by disparate communities fighting for their turn to eat, ethnic competition entrenches ethnic identities at the expense of a Kenyan identity. Already, Azimio has had to promise government positions for ethnic Kingpins in order to appeal to crucial ethnic voting blocs.
On the economic front, the anticipated recovery will be weakened because the visible hand of the government is not as efficient or as innovative as the private sector. Equally concerning is the additional expenditure that will stem from increased spending on social programmes.
Even if we were to believe the hype that Azimio will do a better job of fighting corruption than President Uhuru Kenyatta's administration, one has to question the wisdom of increasing government expenditure at a time our coffers are running dry. One would have thought that at a time of high inflation and unemployment, the new administration would reduce the size of government in order to reduce taxes and interest rates.
Turning to the social pillar, my reservations stem from their negative effect on productivity and innovation. I subscribe to the traditional conservative ideology that welfare systems create a dependent mentality that is allergic to hard work while increasing social problems such as alcoholism and drugs. This aversion is borne out of my encounter with able-bodied young Americans who were only willing to work for six months a year in order to qualify for unemployment benefits.
Other infamous serial abusers of the systems were welfare queens who bore many children in order to increase federal support. It will be a grave mistake for a poor country that needs to harness all her innovativeness and competitiveness, to create opportunities for such shenanigans.
While acknowledging that the primary responsibility of every civilised government is to uplift the lives of its citizens, the question is whether this is achieved through the visible hand of the government or the invisible hand of the market. Clearly Azimio has decided to continue using the inefficient hand of the government to allocate resources and we all know where that has taken us in the past.
Mr Kimari is a political and economic Analyst. [email protected]