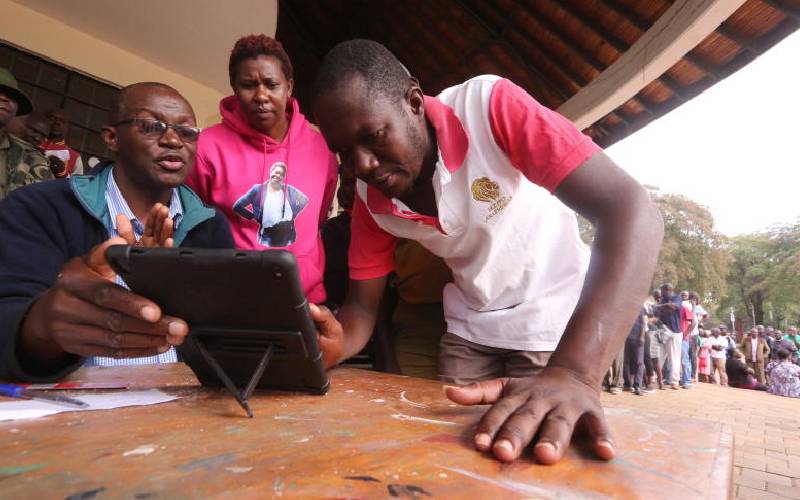 Voters in Kenya don't choose leaders, the leaders are either self-chosen or chosen by others and then presented to voters for endorsement. This applies especially for presidential election candidates and those that receive direct nomination tickets.
Although not all those who receive direct nomination tickets win, majority do, because they are sponsored by the dominant political party in their region. The main political parties are now generally national, but they are dominant in the regions of their patrons or party leaders.
Political parties are also as strong as their leaders' numerical support. It is impossible to speak of political parties without their leaders. Political parties do not exist as democratic institutions of governance. This is why they tend to die or dissolve quietly when their leaders become president.
Jubilee is no exception because it was revived by its former presidential candidate, the incumbent and only for the purposes of fronting candidates in the August 9 elections. The presidential candidates appoint their running mates irrespective of what others in their political parties or coalition want.
Once this is done, sealed packages of presidential elections' candidates are presented to voters to choose. If voters don't like what they are presented with, well, too bad.
In Azimio-One Kenya Coalition Party, only the presidential candidate and running mate are vying under that label while in Kenya Kwanza a good number of candidates are vying for elections under the United Democratic Alliance (UDA) with political parties in the two coalitions independently sponsoring candidates within them.
It is likely then that no one single political party will garner majority in Parliament. If this comes to pass, these two coalitions may end up working together in a bipartisan manner for the good of the country.
This is evident in the manner in which political parties in the coalitions are vehemently resisting calls to vote in a six-piece suit for the main political parties in the coalitions. This is part of the cost for micromanaging or manipulating political party democracy.
We need to recalibrate political parties, which are the navigation system of our democracy and strengthen them as genuine institutions of democracy.
This is the only way we shall ensure their internal democracy and gender parity. So long as they remain as owned outfits, access to nominations and appointments will depend on magnanimity of their owners. This is bad for democracy.
Kenyan politics are quite fascinating. Voters are swayed to support presidential candidates depending on alliances and partnerships. This proves that in politics there are no permanent friends or enemies only permanent interests.
The majority of supporters voted for the combined ticket of President Uhuru Kenyatta and Deputy President William Ruto, three times and were egregiously opposed to ODM leader Raila Odinga those times.
Now, the same voters and supporters have fully embraced the latter and are ferociously opposed to DP Ruto. It is not that these two presidential candidates have fundamentally metamorphosed into different people/personalities; what has changed is their supporters.
I wonder whether if President Kenyatta had said Ruto tosha and shifted all his support to him, things would be the same.
His support for Odinga has certainly lend much support and witnessed a shift of support towards his candidature.
Our leaders have the incredible capacity to sway our support in elections and that is why they bear great responsibility over the credibility and legitimacy of our elections and their outcomes.
They are the custodians of our national stability and security. Generally, we are previous or current supporters of either of the two main coalitions presidential candidates and we saw something we liked or admired in them.
Therefore, there is no need to fight over their win or loss because one of them will have to lose. After the August 9 elections, we are expecting peace and tranquillity and no matter who wins the elections, the legacy of peaceful transition and succession began by the late Presidents Moi and Kibaki will adorn that of President Kenyatta.