Uhuru and Ruto should own up that they helped create mess we are in
OPINION
By John Ouma | May 9th 2022 | 3 min read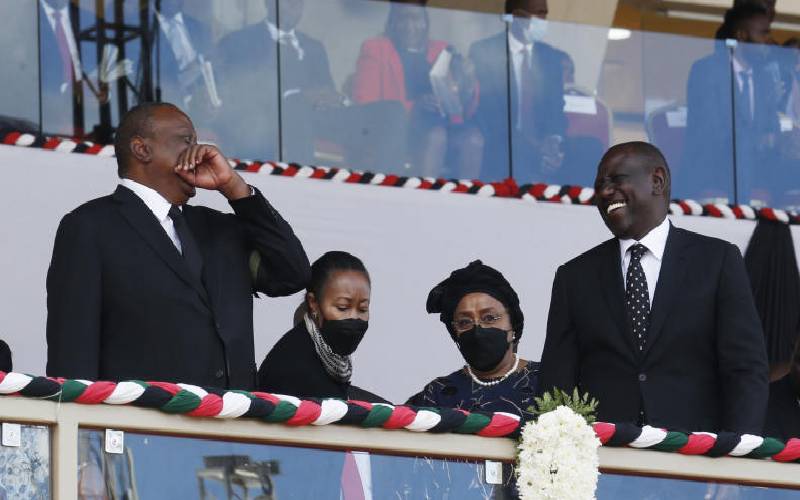 During this year's International Labour Day celebrations, President Uhuru Kenyatta accused his estranged deputy of neglecting his duties and abandoning him, and the country by extension, at the country's greatest hour of need.
His deputy responded, through Twitter and Facebook, that it was the President who actually abandoned him (Ruto) and assigned someone else the said duties. And Ruto is right. It is in public knowledge that Uhuru signed some executive order, the first one of 2020, which effectively robbed of Ruto his duties.
The unheralded truce between President Uhuru and former Prime Minister Raila Odinga on March 9, 2018, came with a few causalities, the greatest of them being Ruto.
Displaced from the centre of power by the 'Handshake brothers', Ruto turned into the greatest critic of the very government that, as he puts it, he co-formed.
According to the President, his government didn't deliver everything it promised, hugely because his deputy chose to put his presidential ambitions ahead of serving the people.
Ruto, on the other hand, insists that Jubilee government was doing just fine, and had achieved much in the first term, until 'Handshake' happened.
Neither is honest. Some of the problems Kenya is grappling with today are as a result of policies implemented by the Jubilee administration in the first term. Dear Mr President, you may have built many roads, however, accept that you have failed to make life bearable for the average Kenyan. Dear DP, before you promise to get us out of this mess, accept that you were at the centre of the system that caused this mess in the first place.
You don't need a thesaurus to understand that it is over between Uhuru and his DP, the dynamic duo that, not so long ago, called each other brothers and wore identical suits. The curtains have been pulled back and the knife has started to do its work.
To paraphrase Augustine of Hippo, in The City of God: "No marriage of convenience (read political alliance) could ever be as perfectly reflective of the divine will as to last forever.
President Uhuru and his deputy clearly have some differences. But those differences, their source notwithstanding, aren't a national problem.
Real statesmen don't wash their dirty linens in public. Real statesmen don't thrive on theatrics and buck passing. Real statesmen take responsibility; they are accountable and honest.
If "messiahship" is the linchpin of Kenyan politics, fear of taking responsibility is the mainstay that propels it. Like Constantine of ancient Rome who believed to have been selected by God to rule with Him on earth, Kenyan politicians have a habit of making their stay in office the work of providence, some sort of divine intervention.
President Uhuru and his deputy must spare us their public spat and instead address the most important issues affecting Kenyans such as the economy.
The economy will need to achieve exceptionally high rates of growth in order to sustain existing levels of per capita growth.
This will certainly not happen if the political leadership is clueless, greedy and corrupt.
These are hard economic times. The cost of living is at an all-time high. We might like to attribute the situation to Covid-19 pandemic and the Russia-Ukraine crisis, but the truth is the political leadership, especially the presidency, bares much of the blame for the state of affairs.