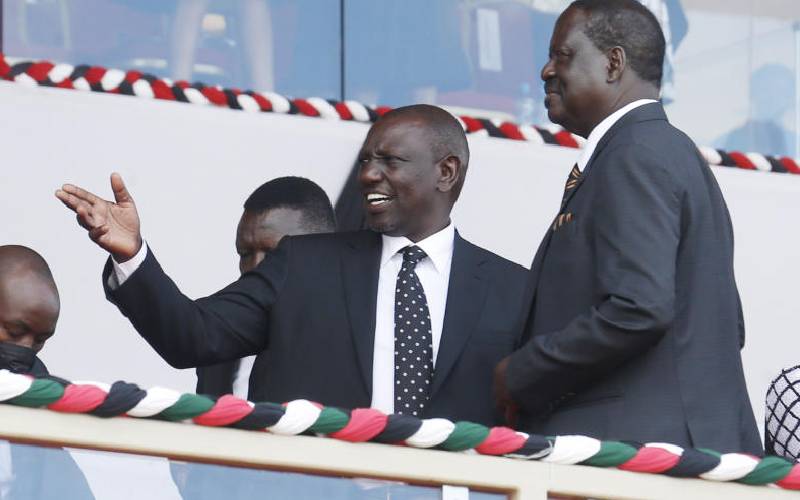 After a week of mourning former President Mwai Kibaki which helped to reduce the political heat, the president and his deputy have thrust Kenyans headlong back into the murky waters of acrimonious politics.
The latest bitter exchange between the two most prominent men in our country shows the extent to which their relationship - they used to even wear matching shirts to underscore the depth of their bromance during their first term in office - has deteriorated. It is clear there is no love lost between them.
It's apparent the once called 'dynamic duo' cannot see eye to eye unless when it is inevitable like during times of mourning such as Kibaki's funeral.
It is still unclear why the two fell out and efforts, including by the clerics, to reunite them have hit rock bottom. It is clear that their 'marriage' has fallen apart due to what is referred to as irreconcilable differences in divorce courts. Unfortunately, despite their troubled relationship, none of them wants out.
Inevitably, the people who suffer most when marriages go south are the children. Kenyans are suffering and, needless to say, the strained relationship is also causing divisions in the country.
Ruto has increasingly been behaving like an opposition leader, never missing the opportunity to critise the government he serves in for letting Kenyans down, clearly with an eye on the August 9 elections in which he is one of the key contenders for the presidency. He mourns that the president has stripped him of most of his duties.
Bad to worse
Uhuru on the other hand has been accusing his deputy of abdicating duty to prematurely concentrate on campaigns. It is unlikely the relationship between the two, which has gone from bad to worse in the past five years, will be mended in the remaining 98 days to the elections.
But there is an important lesson to be learned from all these, especially by those vying for the presidency and governor. They must be extremely careful while picking their running mates.
They must choose carefully to ensure they stick to their original vows and vision to avoid the kind of confusion and animosity that we have witnessed in the current presidency, and also among many governors and their deputies.
While ethnic and regional balancing is important while picking running mates, the candidates must ensure that those they pick are not only competent but will be loyal to them to avoid the kind of sideshows that we have witnessed. The two must be compatible.
For that reason, candidates such as Azimio's Raila Odinga who have delegated the task of picking running mates to committees should not merely agree with the decision of the teams—they must be in agreement with the choices that the teams make. That will make things easy for themselves and Kenyans at large. The candidates should not be forced down their throats.