Here's a formula that can make presidential elections peaceful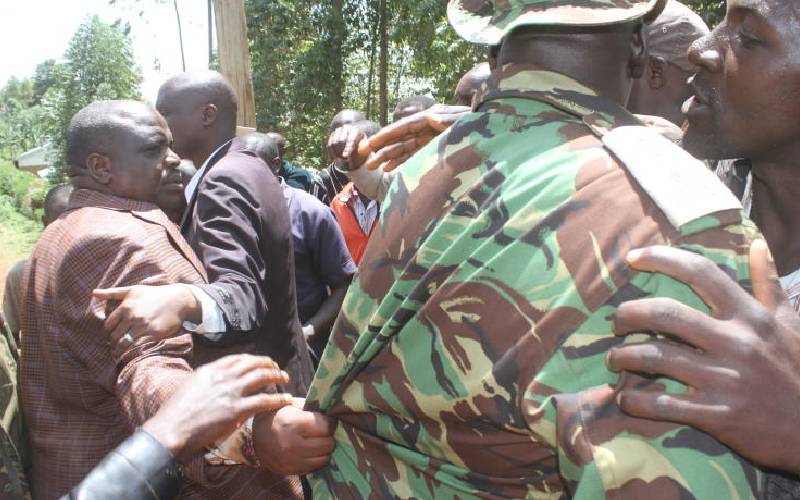 Lest we forget, one person, one vote, also called universal suffrage, hasn't really worked for us particularly since the 1980s. I have said this before.
At some point, the government decided that party primaries – Kanu by then – would be conducted through the infamous mlolongo. This was a method in which supporters would queue behind their preferred candidate. Needless to say, the outcome was disastrous. People who never wanted to publicly declare where they belonged were caught red-handed. Hatred between individuals, families, clans and communities led to strained social relationships. The experiment collapsed and we reverted to voting by secret ballot.
The 2007 presidential election outcome, besides exposing our beastly nature which saw violently attacking each other, also exposed innocent voters to tribal bigotry. The so-called violence hot spots continue to face public stereotyping and even discrimination at various levels. Thanks to one man, one vote, the 2022 campaigns pit regions and clans against each other.
The Americans with all their love for democracy do not buy into the universal suffrage thing as we saw when Hillary Clinton won the popular vote and lost the Electoral College vote.
The press conferences called by politicians nowadays are about "how to protect our interests". Many parts of the country are now forced to retreat back to tribal groupings to put together some sort of negotiating a package with prospective presidential winners. The restive Rift Valley and Nyanza are spared the headache of discerning "how to protect our interests" because they clearly have the leading presidential aspirants.
It is at this point that we realise the myth of nationhood. We stop to reason and hold elections as one country. Beyond words that politicians just don't believe in, we have refused to address the one person, one vote system in spite of the many opportunities that have presented themselves since the 80s. Here we are headed to another General Election with the usual uncertainties gripping voters who might be in "hostile" environments.
Peace is paramount for all of us. There is no sacrifice too big to make if only to ensure our elections are peaceful and people don't have to look over their shoulders when results, presidential elections, in particular, are too close to call.
Here is a simple proposal, best for governor and presidential elections, even at this late hour if only to ensure our elections are peaceful.
Voters should have two options weighted at 60 and 40 per cent. Option one is the one person, one vote that many of our Kenyan voters are used to, weighted at 60 per cent of the overall vote outcome. The second option is "Voter Score Card" weighted at 40 per cent. The Voter Score Card simply has three areas of assessment: Candidate appeal across the county or country; performance record; and manifesto strength. The voter ticks two of the three criterion for at least two of the presidential candidates.
Simulations will show that tribe will be just a factor, not the mobilisation principle it is now. Further, even if only 100,000 voters of the say 10 million of the voters choose this option, they are likely to be the critical voters less swayed by tribal loyalty or other partisan interest safe that of national progress. They are also likely to be the educated middle class who hardly vote. This category is often the one that drafts policies for governments and non-state actors. Their voice is therefore important in such a determining national exercise.
Besides, this formula will test the seriousness of some candidates whose only reason to run is to top up whichever side wins. In addition, the candidates will redirect their energies from manipulation to voter persuasion.
The wisdom in this kind of approach lies in the voter making a judgment based on what John Rawls calls the veil of ignorance. This means, deciding in a way that the best winner takes office.
Dr Mokua is executive director, Loyola Centre for Media and Communications